www.magazine-industry-usa.com
Written on Modified on
CARRIER TRANSICOLD INTRODUCES NEW THIN-PROFILE VECTOR 8400R INTERMODAL UNIT
The new thin-profile vector 8400r intermodal unit offers improved fuel efficiency and lifetime carb compliance.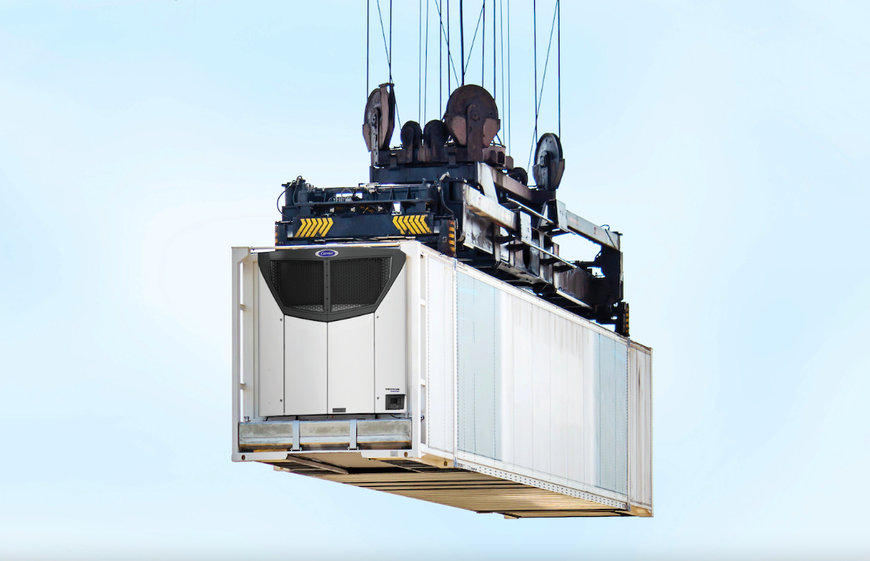 Providing significantly improved fuel efficiency and lifetime compliance with California's latest emissions standards, Carrier Transicold has introduced its new thin-profile Vector™ 8400R refrigeration unit for domestic intermodal containers.

The new unit was unveiled at the Intermodal Association of North America's Intermodal Expo. Like the model it succeeds, the Vector 8400R delivers highly efficient refrigeration and freezing performance in a space-saving design. Additionally, it boosts efficiency while also surpassing EPA Tier 4 requirements by cutting particulate emissions for lifetime compliance with the California Air Resources Board (CARB), without the need for future exhaust control systems.

Benefits of the Vector 8400R unit include:
Cargo optimization – The Vector 8400R is about 40% thinner than a traditional intermodal refrigeration unit and maximizes usable container space for more efficient operations. Up to 7% more cargo can be carried than with traditional units – 15 pallet rows, rather than 14.
Up to 10% better fuel efficiency – The unit has an advanced new engine with common-rail fuel injection that optimizes fuel delivery for improved efficiency compared to the previous model.
Greater sustainability and regulatory compliance – In combination with the new engine, a diesel oxidation catalyst pushes particulate, hydrocarbon and NOx emissions to new lows without requiring complex exhaust gas recirculation systems found with competitive units. The unit uses CARB-compliant R-452A refrigerant, with about half the global warming potential of the refrigerant traditionally used in transport applications.
Higher refrigeration capacity – Carrier Transicold's proven E‑Drive™ all-electric refrigeration technology delivers high refrigeration capacities, powerful air flow and fast pulldown. The unit's refrigeration and freezing capacities remain constant when using its integrated plug-in electric standby capability, unlike competitive thin-profile intermodal refrigeration systems that can lose as much as 25% of their rated capacity when using standby power.
Easier to maintain – The diesel engine is direct-coupled to a high-output generator to produce power for the all-electric refrigeration system, eliminating many common serviceable components and making the unit easier to maintain. Intelligent controls automatically activate individual components, running only what the system needs, precisely when needed, so components can last longer than traditional counterparts.
Vector 8400R units are equipped with Carrier Transicold's industry-leading Lynx® Fleet telematics solution for remote monitoring of temperatures, location, movement and unit operating performance (subscription required). To help maintain the charge of the battery supporting the unit and its telematics system, Carrier Transicold offers an optional 50-watt rail-optimized solar charging system designed for placement on the unit door, as intermodal containers are often double-stacked, limiting the application of rooftop mounted systems.

The fuel-efficient, CARB-compliant Vector 8400R can help fleets significantly reduce their environmental impact, supporting Carrier's 2030 Environmental, Social and Governance Goal of reducing its customers' carbon footprint by one gigaton.