www.magazine-industry-usa.com
Written on Modified on
ProSoft Technology has been awarded the First Prize "Partner of the Year 2013" honor by Schneider Electric's Collaborative Automation Partner Program (CAPP)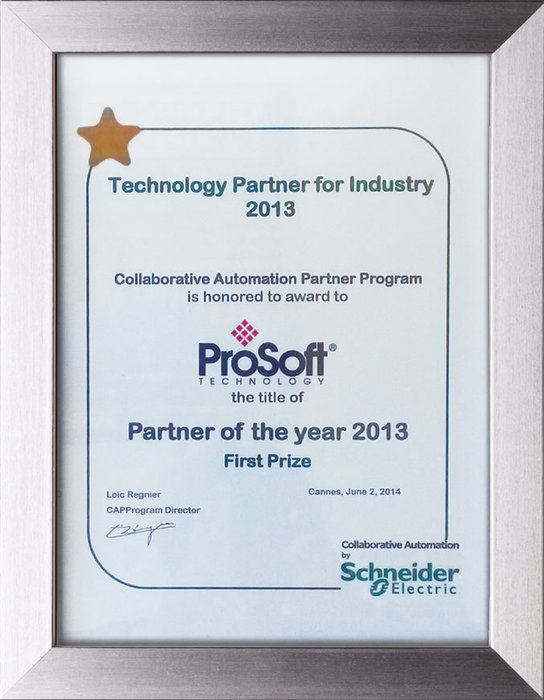 "ProSoft Technology's in-house and on the field operational processes, its customer-oriented mind-set and commitment to support OEMs and system integrators while always keeping in mind end user satisfaction has been once again recognized," said Loic Regnier, Industry Business – Strategy and Partnerships Deployment Director at Schneider Electric.
Countries from all around the globe, represented by local CAPP Champions, voted and selected their three preferred partners, an internal "audit" that is conducted yearly. Criteria for the selections included factors such as the products and high-tech solutions themselves, and the sales and technical support offered locally by the partner, both before and after the sale. The partners with the highest marks are honored.
The awards were given at the Xcelerate 2014 event in Cannes, France. The Schneider Electric event gives system integrators and CAPP partners the opportunity to develop their skills, collaborate and grow together.
To find out about the interfacing communication modules, industrial wireless solutions and autonomous gateways ProSoft Technology offers for Schneider Electric users, visit our
dedicated webpage
.