www.magazine-industry-usa.com
Written on Modified on
Antenna array integrated module for mmWave 5G from Murata saves space and cuts costs
Murata has launched a space-saving antenna array integrated module for mmWave 5G designed specifically to meet the demanding requirements of the smartphone, Internet of Things (IoT) and local/private 5G markets.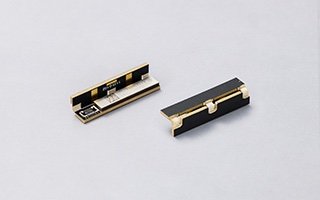 In the past, the efficiency of millimeter waves has been compromised by obstacles, an issue that has presented significant challenges for manufacturers looking to incorporate mmWave functionality into their communications equipment. A major disadvantage of existing products on the market is that to get around this problem, they require several radio-frequency integrated circuits (RFICs) to be fitted in order to emit radio waves in multiple directions.
However, Murata's solution – based around the MetroCirc™ mmWave antenna module board with its superior high-frequency performance – has a unique L-shape design that delivers a secure mmWave wireless communication environment in two directions using just a single RFIC. This means the module makes it possible to maintain the minimal footprint required for the development of smaller, slimmer smartphones, IoT devices and customer sets. A key advantage of the L-shape design is that it not only helps to cut costs by reducing the number of modules required but it also offers far greater coverage using the same number of modules.
Combining high-speed operation with high-capacity, the innovative Murata design is capable of delivering secure, stable communication paths, making it much easier for smartphone manufacturers and wireless device developers to create systems that take full advantage of the benefits offered by mmWave 5G technology.
Another feature of the new module, part of Murata's LBKA series, includes the ability to disperse IC heat generation effectively thanks to the use of extremely precise packaging technology.
"As the 5G, smartphone and IoT markets continue to grow, so will the demand for wireless transmitting and receiving using mmWave 5G systems",
says Kengo Onaka, Communication Modules Division, mmWave Business Promotion Department, Senior Manager of Development Section at Murata.
"The ability to install high-performance antenna modules in a very small space will be welcomed by developers and manufacturers around the world who are pushing to create solutions fit for the future."

www.murata.com