www.magazine-industry-usa.com
Written on Modified on
The new field-wireable M12-connectors from ESCHA are extremely compact and therefore particularly suitable for space-critical applications.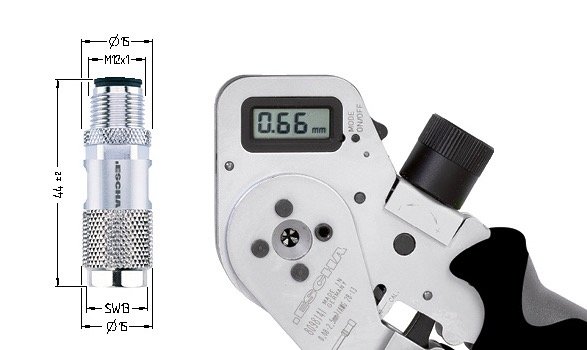 Field-wireable connectors ae used wherever a high degree of flexibility is required. For instance in case of initially unknown cable lengths or panel feedthroughs. However, these often have two weaks compared to overmolded connectors:

Their installation requires a great deal of sensitivity is therefore more complex.
They are much larger and therefore require more installation space.
The new and extremely compact field-wireable M12-connectors from ESCHA are a perfect solution. They feature crimp-contacts that can be assembled quickly and easily with a crimping tool. Thanks to their slim and compact housing, they take up less space and are therefore particularly suitable for space-critical applications.

Two versions for a variety of applications
As of now, you can get the new field-wireable M12-connectors from ESCHA in two versions: A-coded variants are designed to meet the requirements of sensor/actuator wiring, while D-coded variants guarantee permanent data transmission according to Cat5e. Both variants are adapted for cable diameters from 4.5mm to 8mm and wire-cross-sections between 0.25mm² and 1mm². This means that they cover a very wide range of cables and can be used in a variety of applications.

Without any problem, you can use the field-wireable connectors in an ambient temperature range from -40°C to +90°C. In screwed status, they meet the tightness requirements of protection class IP67. A realiable 360°-shielding ensures secure data- and signal transmission.

Crimping tool and locator
The corresponding crimping tool and the required locator are also available from ESCHA. Both accessory products are exactly adapted to the requirements of the field-wireable connectors and guarantee a smooth assembly.

www.escha.com