www.magazine-industry-usa.com
Written on Modified on
Beijer Electronics Products AB
Satisfying the demand for reliable HMI solutions for OEMs and machine builders, Beijer Electronics is launching its new website - www.machinebuilderhmi.com – to provide tuned information on products, customization, development and support.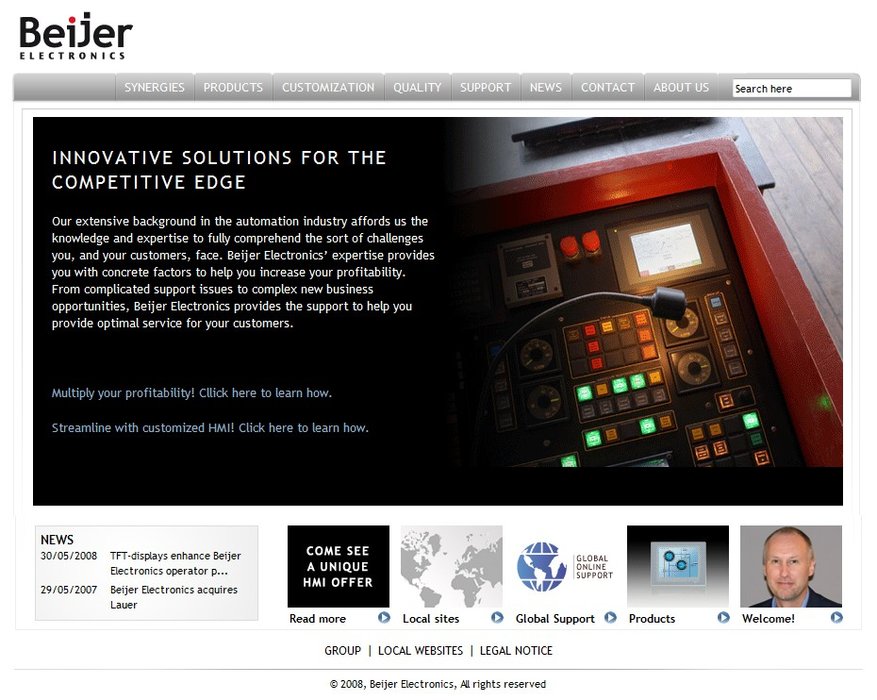 The company's uniquely comprehensive HMI offer is specifically in-tune with the needs of machine builders. The offer provides solutions for both simple and complex applications, covering everything from small, compact products to large operator panel interfaces and open PC-based solutions – Beijer Electronics is a partner that customers can rely on for all their needs. "We listen to our customers requests and provide customized and tailor-made products that fit machine builders' demands", says Magnus Green, Sales manager, Brand label & OEM at Beijer Electronics. These reliable, high-quality HMI solutions have passed the test in thousands of applications and are certified for demanding environments, available with a wide range of communication drivers to enable you to use any brand of PLC and other automation equipment. The flexible standard product offer presents a wide choice of functionality and specification levels as well as customization options. Intuitive configuration and run-time software make it easy to create applications for logical, user-friendly and efficient interfaces between systems, machines and operators – and incorporating Beijer Electronics' robust data communication units into their applications will save machine builders valuable time and money. "We provide automation solutions that our customers can trust", declares Magnus Green "By delivering future-proof and flexible solutions that exhibit high levels of quality we help our customers gain a competitive edge", he concludes. Please feel free to visit www.machinebuilderhmi.com for details.
Picture text:
- Magnus Green, Sales manager, Brand label & OEM.
- Our operations revolve around our customers, with customization options ranging from specific functionality features to foils featuring customers' own design and colors.