www.magazine-industry-usa.com
Written on Modified on
FANUC AMERICA SHOWCASES ROBOT AND COBOT SOLUTIONS AT PACK EXPO LAS VEGAS
FANUC America will showcase a wide range of robots and cobots for picking, packing, palletizing and fulfillment at Pack Expo Las Vegas, booth #C-5233.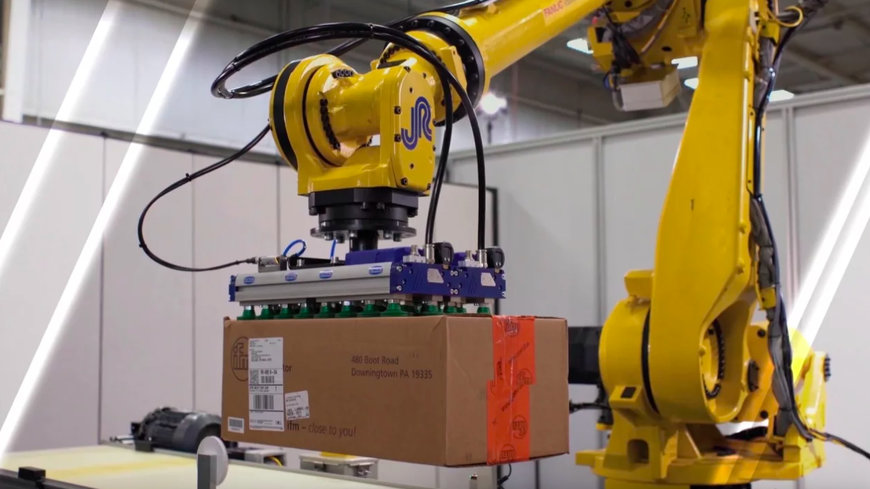 Attendees are invited to learn how FANUC's automation solutions can help them overcome production, supply chain and labor challenges.
FANUC CRX Cobots with Enhanced Capabilities

Palletizing - At Pack Expo, a CRX-25iA robot, demonstrating its enhanced 30kg payload and 1,889mm reach will demonstrate case palletizing. Guided by a 3DV/200 iRVision
®
sensor mounted to the arm, the CRX-25iA will palletize boxes to nearly 7' high. In addition, the CRX-25iA will be mounted to a mobile cart to showcase its flexibility. The robot can be easily repositioned by hand and uses vision to automatically adjust to its new location and continue working accurately.
Kitting - A new CRX-10iA Food-Grade option cobot will demonstrate packing meat and cheese gift boxes. Attendees are invited to try the cobot's intuitive hand guidance and easy-to-use Tablet TP.
The new food-grade CRX-10iA cobot is coated in white epoxy paint, IP67 washdown rated and uses NSF H1 food-grade lubricant. With a 10kg payload and 1,249mm reach, this cobot is also perfect for those with little to no robotic experience as it features a simple drag-and-drop programming interface on a touchscreen Tablet TP. The ease of programming paired with FANUC's world-renowned technology, proven reliability, and sensitive contact detection allows the CRX-10iA to work safely alongside people.
FANUC's entire series of
CRX collaborative robots
are reliable, flexible and can run for eight years without maintenance.
New M-10iD/12 Food-Grade Option: Meat Case Packing

FANUC's new Food-Grade M-10iD/12 robot picks wrapped meat and packs it into a box. The demonstration highlights the robot's speed and flexibility to handle various payloads. Additional software features include Collision Guard, Constant Path and Singularity Avoidance.
The M-10iD/12 and larger M-20iD/25 Food-Grade options are members of the
M-10iD
and
M-20iD
robot series, both models feature white epoxy paint, IP65 standard body protection (IP67 wrist + J3 arm), food-grade oil on all axes, stainless steel wrist flanges, motor covers, corrosion-resistant fasteners, and the Severe Dust & Liquid Protection package.
The M-10iD/12 has a 12kg payload and a 1441mm reach, and the M-20iD/25 offers a 25kg payload and 1831mm reach. A long reach, including the backflip region, coupled with a lightweight and sleek design makes it easier for customers to use the robots in their available workspace, which is often at a premium. A large hollow wrist and arm allows internal cable routing to prevent snagging and minimize interference with workpieces and fixtures.
FANUC DR-3iB/6 STAINLESS Delta Robot Handling Protein

The
DR-3iB/6 STAINLESS
is FANUC's stainless steel food-grade delta robot for picking and packing primary foods. Rated IP69K, the robot complies with U.S. national food safety standards, which will help companies increase their production efficiencies without compromising food safety.
At Pack Expo, the DR-3iB/6 STAINLESS robot will use 3DV iRVision and iRPickTool line tracking software to pick randomly oriented pieces of chicken from a continuous infeed conveyor. Equipped with a Soft Robotics gripper, the robot picks chicken breasts and reorients them onto an outfeed conveyor with trays. The cell features high-speed picking with product re-orientation.
The DR-3iB/6 STAINLESS features a fully enclosed stainless-steel body that is resistant to the chemicals and high pressure/temperatures required in strict wash-down environments. It has a 1200mm reach (450mm height) and a powerful four-axis design allowing it to handle up to 6kg payloads at high speeds. The robot's mirror-like surface finish ensures that any microbial contaminants can be washed away cleanly. Additional features such as NSF H1 food-grade lubricant, secondary oil catch basins (with viewing windows to monitor potential leaks), self-draining surfaces and many other small details driven by food safety standards, makes the DR-3iB/6 STAINLESS an ideal solution for primary food handling applications.
The robot operates with FANUC's latest R-30iB Plus controller with integrated intelligent functions such as iRVision, Force Sensing, Robot Link, Collision Guard and Zero Down Time (ZDT).
LR Mate 200iD/7LC and SR-6iA/C Robots: Breakfast Sandwich Assembly

An LR Mate 200iD/7LC and SR-6iA/C – both cleanroom robots - will assemble four breakfast sandwiches. Two slides move the sandwiches between the two robots for assembly. First, the LR Mate 200iD/7LC uses iRVision 3D to pick and place four English muffins on a plate. The SR-6iA/C SCARA robot will then pick and place a sausage patty on top of each muffin. The robots will alternate placing the remaining elements on each sandwich including an egg, a slice of cheese and a top muffin. Once all four sandwiches are completed, the robots remove items in reverse order and the cycle repeats.
The popular
LR Mate 200iD
series of tabletop industrial robots offers a "best in class" work envelope for both upright and invert mount installations. Ten models include clean room and wash-proof versions, each with various wrist speeds and reaches to accommodate even the most limited workspace. The LR Mate series, introduced over 30 years ago, is one of FANUC's most popular robot models with over 70,000 units installed globally.
The
SR-6iA/C SCARA
has a 6kg payload and 650 mm reach. It features a white epoxy coating and is rated IP54, meaning it is protected against contamination from limited amounts of dust and other particles as well as water spray. The SR-6iA/C can meet ISO Class 2 to ISO Class 5 for cleanroom operation and uses NSF-H1 food-grade grease and anti-rust bolts for food handling applications.
Visual Line Tracking – LR Mate 200iD/7L Robot

A FANUC
LR Mate 200iD/7L
uses an overhead-mounted 3DV/400 iRVision Sensor and Line Tracking with iRPickTool to find and track parts moving down a conveyor. The robot picks a part and places it into a bin. The system highlights the speed and accuracy of the 3DV/400 vision sensor and the ability to detect the 3D orientation of a workpiece.
www.fanucamerica.com