www.magazine-industry-usa.com
Written on Modified on
Parker launches new crimper power unit 85CE-PDP for greater flexibility and productivity
Parker has launched a flexible crimper power unit to increase productivity and versatility for smaller hose assembly needs.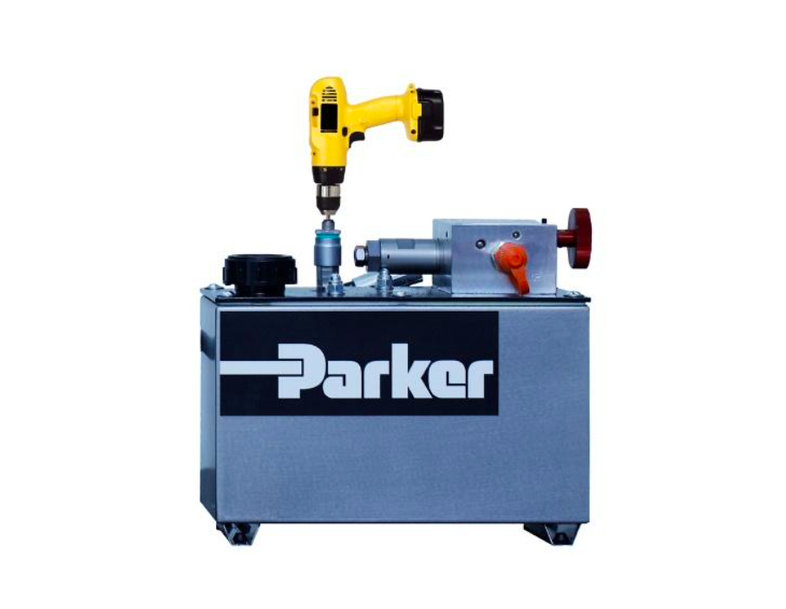 Parker's new 85CE-PDP crimper power unit offers an efficient and flexible way of crimping hose anywhere, independent of power and air supplies. This will make hose crimping far more productive, as it will be possible to crimp hose electrically rather than manually.
The 85CE-PDP works with any commercially available cordless screwdriver. This makes it flexible in use, especially in agriculture, forestry, construction and mobile hydraulic applications. It can be used anywhere, without the need for special power units, other power sources or air supply. Together with existing crimping tools from Parker, Karrykrimp 1 and 2, it provides even more flexible and productive options for crimping hose fittings.
The 85CE-PDP crimper power unit offers a flow rate of up to 2.2 (0.68) l/min and a nominal pressure of 70 MPa (700 bar). The pressure can be measured with the integrated pressure test point. It has a pre-set pressure relief valve at 700 bar, which is manually adjustable, and a Hex SW 13 mm drive shaft. The 85CE-PDP can be operated in a temperature range from +10°C to +35°C. With an oil volume of 2.5 l, the unit has a weight of 9 kg, meaning it can be carried easily with the integrated shoulder strap.
The crimper power unit fits perfectly with the 700 bar hose assembly size -4 inclusive male coupler and handholds produced by Parker. This new offering gives customers a choice. For maximum portability and flexibility, Parker offers the two hand pumps, Karrykrimp 1 and 2, while the new 85CE-PDP pump operated by a cordless screwdriver will increase productivity and versatility for smaller hose assembly needs. Other versions available include an electric pump, electric power unit and air/hydraulic pump.
For more information, please visit
https://ph.parker.com/gb/en/crimper-power-units-europe/85ce-pdp
.
www.parker.com