www.magazine-industry-usa.com
Written on Modified on
Volvo Penta's modular electric systems triumph in FTMH partnership
Volvo Penta and FTMH have expanded their partnership to include electric forklifts. This collaboration highlights the trust in Volvo Penta's modularized electric platform and its full system supplier approach of the latest electromobility technology.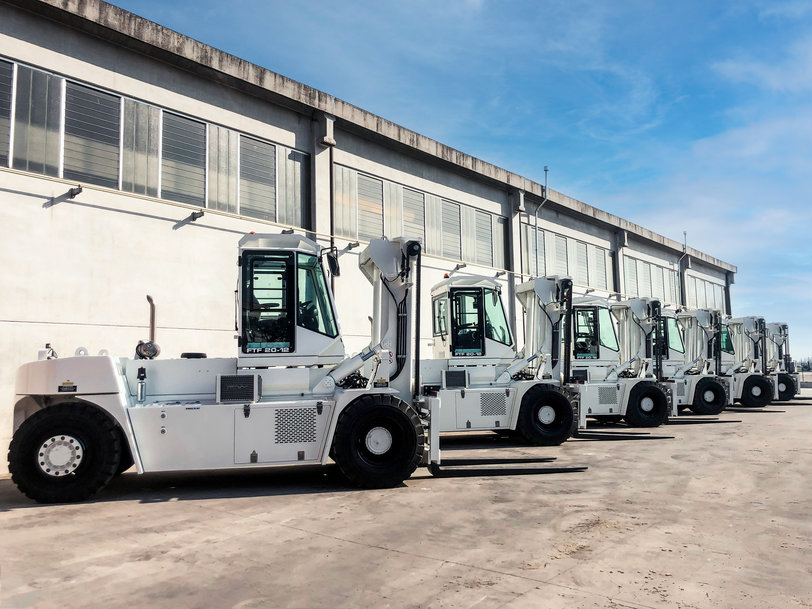 Italian heavy equipment manufacturer
FTMH
(Fantuzzi Team Material Handling) is continuing its strong collaboration with Volvo Penta to electrify a range of forklift models. The strengthening of this partnership is another demonstration of the success in the adaptability and modularity of the
Volvo Group's
electrification platform in unlocking more application opportunities.
The partnership will see a full range of e-forklifts, up to 52-tonnes, developed. The 26-tonne capacity FTF 26-12, which currently relies on a Volvo Penta D8 engine, will be the first to be electrified as the FTF 26-12 EL. The 600V electric drivetrain will be powered by a Volvo Penta battery system with an installed capacity of 360 kWh. To ensure the machine secures maximum uptime, it will be compatible with high-power charging, at rates of up to 250 kW DC. This allows for a full charge to be delivered in just over an hour, while maximizing the potential for opportunity charging during any pauses in operation.
"This collaboration is another proof point highlighting our focus and the high potential of the material handling segment," says Zeyd Okutan, Product Manager, Volvo Penta. "Port operations and logistic terminals are a good fit for electrification, and we see great opportunities for fleets with zero-emission vehicles, including forklifts, empty container handlers, reach-stackers and terminal tractors. Good infrastructure and well-defined duty-cycles will ease the transformation of the industry, bringing benefits including reduced noise, increased uptime and productivity."
Proven Volvo Group technology

Volvo Penta has a growing foothold as an electromobility full systems supplier and is making strong progress on its journey to net zero. The company's solution comprises heavy-duty components developed and proven by other businesses within the Volvo Group, optimally packaged and installed to suit the needs of individual off-highway OEMs as a result of Volvo Penta's vast knowledge and experience.
"Electrification can be a long journey, and at Volvo Penta we understand the effort, knowledge, and resources manufacturers need to undertake," explains Ilenia Procicchiani, Industrial Sales Manager at Volvo Penta. "That's why we closely collaborate with each customer, leveraging their expertise to adapt our purpose-built electromobility solution to meet their specific requirements."
A growing, collaborative partnership

Volvo Penta and FTMH have worked closely for 10 years. The Italian cargo handling equipment manufacturer integrated
D11
diesel engines into its range of 45-tonne full-container-handling
reach stackers
, and a broader range of Volvo Penta units across its 15-52-tonne capacity general
forklift
series.
"The positive and active collaboration we experienced with Volvo Penta during the development of our internal combustion machines facilitated our decision to invest and partner on this new project," explains Eugenio Ponzini, Technical Manager, FTMH. "Our exclusive Volvo Penta dealer in Italy,
CARMI
, is a key partner in the project, supporting the development of what we all hope will be the first of a wide range of electric material handling machinery to be manufactured in Brescello."
www.volvopenta.com