www.magazine-industry-usa.com
Written on Modified on
Menzel Elektromotoren has manufactured a motor with a special flange for a condensate extraction pump in a combined heat and power plant
Pump motor for thermal power station.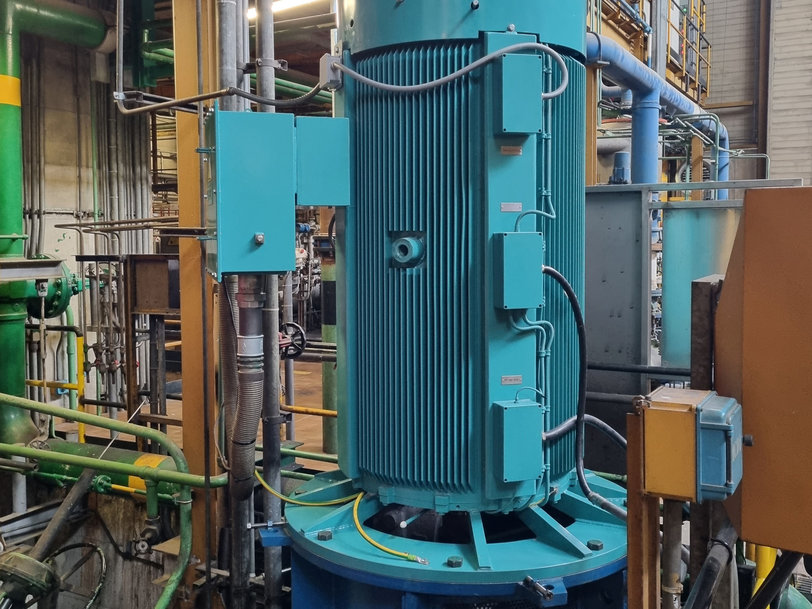 Menzel adapted the pump motor for the application – with a special flange and repositioned main terminal box.

The original motor, which was over 30 years old, had to be matched exactly in all mechanical and electrical interfaces. Works included the manufacture of a flange with special dimensions for vertical installation along with repositioning the main terminal box. The energy supply company, already a customer of Menzel Italy, awarded the order because Menzel was able to fully confirm all technical requirements.
Menzel's MEBKGR series comprises high-voltage squirrel cage motors with an excellent price–performance ratio. For the current application, the manufacturer designed a 4-pole motor with size 500, 6000 V nominal voltage, 1100 kW nominal output, protection class IP55 and cooling type IC 411 (fin cooling with external fan). Menzel took the motor all the way through to commissioning, which was carried out to the customer's satisfaction.
More Menzel pump motor references:
https://www.menzel-motors.com/pump-drive/
www.menzel-motors.com