www.magazine-industry-usa.com
Written on Modified on
ELESA+GANTER INTRODUCES NEW COMPACT AND ROBUST ANGULAR GEAR BOXES
The new, compact and robust angular gear boxes are suitable for applications such as handling systems, packaging machines and conveyor technology.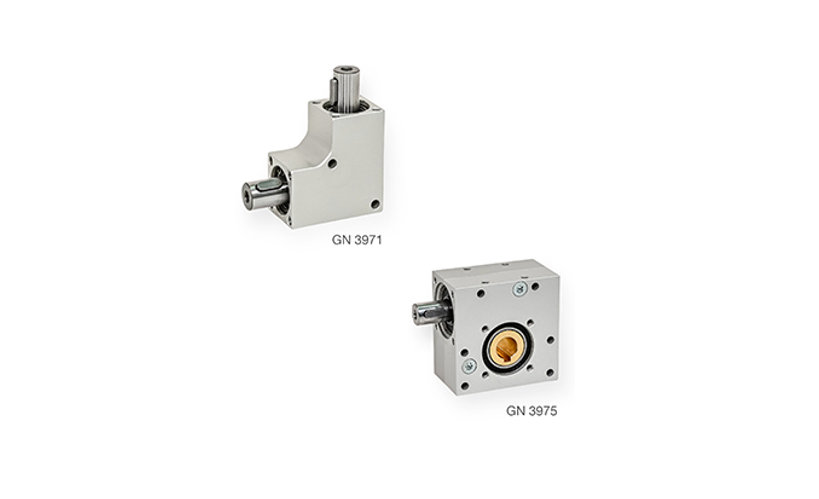 Elesa+Ganter has expanded its product range with
two compact and robust angular gear boxes
that translate rotational movements by 90 degrees and transmit high torques with or without a gear ratio.
The bevel gear box GN 3971 is available in seven sizes with housing lengths between 32 and 60 mm and widths between 18 and 35 mm. The gear ratio between the gear box shafts is always 1, the direction of rotation can be selected as desired. The gear shafts can receive axial and radial forces of 60 newtons on the smallest model and 550 newtons on the largest. The special tooth geometry of the bevel gears of case-hardened steel allows for particularly high torques relative to the size. This can be as high as 10 newton meters, depending on the operating speed.
Thanks to small centre distances, the worm gear reducer GN 3975 measures only 60 mm on the sides and only 35 mm in width. An internal hardened steel screw moves a worm gear made of special brass. Seven versions provide gear ratios between 1:13 and 1:65. The maximum radial and axial force ranges between 200 and 500 newtons on the input side and is always 500 newtons on the output side. As of a gear ratio of 1:18, a static self-locking mechanism prevents rotation of the worm gear from the output side, offering improved safety in many applications.
The encapsulated housings of anodized aluminium make both angular gears light and corrosion-resistant. They also effectively dissipate the resulting frictional heat. Numerous fastening holes make it possible to mount the gear boxes in many positions. The shafts can be rotated in both directions and feature a threaded bore and parallel keys for a positive connection to the hub. The bevel gear boxes and worm gear reducers have lifetime lubrication and therefore require no maintenance. The two gear boxes can also be combined together, such as with the elastomer jaw coupling GN 2240.
www.elesa-ganter.com