www.magazine-industry-usa.com
Written on Modified on
Seven low-carbon, energy-saving sustainability 'smart fields' to be showcased by BenQ Group at COMPUTEX 2023 in collaboration with 22 group companies
COMPUTEX 2023, one of the top three global information and communication exhibitions, will run from May 30 to June 2 and as a leader in smart solutions.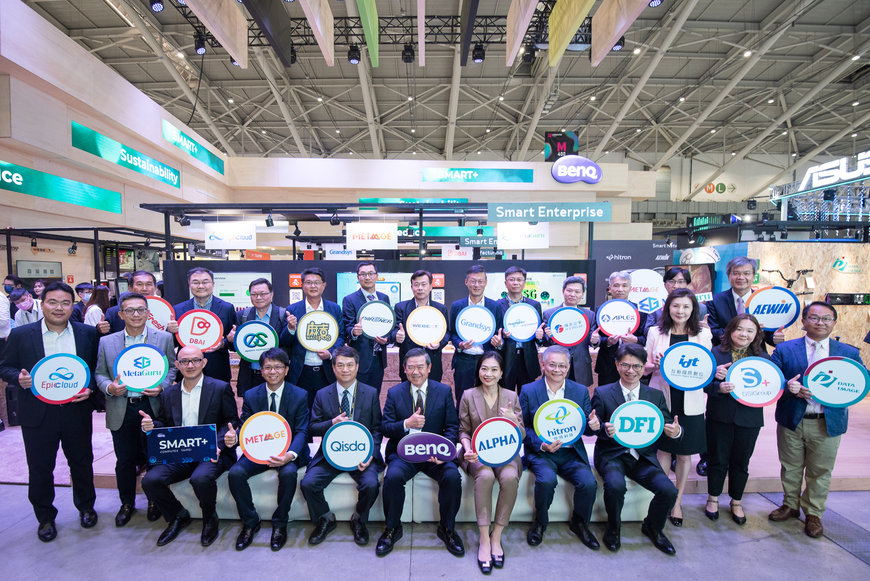 BenQ Group, utilizing its 'Smart+/Smart Plus' concept will showcase seven smart fields in collaboration with 22 group companies spanning vertical markets including enterprise, catering and retail, manufacturing, network communication, education, transportation, and more.
BenQ Group's Chairman Peter Chen says, "BenQ Group empowers customers from all industries through cross-domain integration of technologies, channels, and partners. Even our products and services incorporate the principles of low carbon and energy conservation. 50 percent of the smart solutions in the current exhibition demonstrate sustainability values, assisting customers with green transformation and the future creation of a sustainable and virtuous cycle."
Smart Enterprises: Constructing intelligent enterprises through cloud-to-ground integration, specialized services in AI applications, Big Data analysis, and Information Security.
MetaAge's Cloud Management Platform(CMP), one-stop monitoring, review, and prediction of enterprise IT multi-cloud usage and efficiency, support for AWS, Azure, Google Cloud, Akamai, Cisco Webex, and other IaaS/PaaS/SaaS services, are among this year's highlights.
Smart Retail: One-Stop 4-in-1 Solution (Hardware, Software, Fintech and Service integration); cultivating chain clients to deploy a new layout in Asia and cross-countries solution
Partner Tech builds a cross-countries solution of '4-in-1 Solution(Software, Hardware, Fintech and Service)' to become best global brand expansion partner in sectors including retail, food service, hospitality, and more. Partner Tech's diverse POS and self-service kiosk solutions, coupled with cloud software platform allow chain operators to effectively monitor and manage various IoT peripherals and self-service machine equipment, thereby gaining a better understanding of the operation and sales status of each store and improving operational efficiency. In conjunction with POS and self-service kiosk equipment designed to optimize energy consumption, energy costs can be reduced while manpower efficiency can be increased, thereby further reducing carbon footprints and aiding customers in sustainable development.

Smart Manufacturing: Continuing to focus on energy conservation, intelligent automation, and sustainability
To aid manufacturers in making efficient use of automation equipment and green energy during the energy-intensive manufacturing process, ACE PILLAR's solution has been specially designed for smart factories and energy management facilities, which integrates collaborative Robot + AI visual inspection and energy management. Intelligent technology helps factories better manage their energy consumption through software and hardware integration to improve their production processes, reduce their development times, and account for both high-efficiency production and environmental sustainability management.
BenQ develops post-pandemic health classrooms and a new way of hybrid working
All BenQ Boards have touchscreens coated with a nano-ionic silver formula that kills 99.9% of common germs after contact. Built-in air quality sensors and Eye-care technologies provide healthy learning environments for students and educators. With a user-friendly UI and highly integration of hardware and software, BenQ transform every classroom into a healthy learning space that maximizes student engagement and enables impactful lessons.
The BenQ beCreatus DP1310 USB-C hybrid docking station debuting globally has a dual-source USB-C & HDMI 2.1 integrated design for work and entertainment. Also, The BenQ ideaCam offers a versatile communication experience with four shooting modes: Portrait, Deskview, Handheld, and Macro mode. Capture unique angles with Handheld mode and magnify details with the magnetic 15x Macro lens. Both products make it ideal solution for hybrid working.
Create 5G smart poles and embedded vehicle solutions; reinforced design is resistant to severe traffic environments
DFI's 5G Smart Poles Solutions- via ultra-compact fanless system EC70A-TGU executes high-efficiency AI edge computing, not only integrating a large amount of shared data but also accelerating pedestrian recognition, crow count monitoring, and speed tracking. The information is then returned synchronously to the smart poles.
This year, Data Image Corporation is showcasing smart instruments made to withstand a range of challenging outdoor environments as well as ultra-widescreen displays made specifically for large cruise vessels and maritime commercial ships.

Develop a high-strength information security network communication environment to increase energy density and maximize energy benefits
Alpha Networks' exhibition highlight is the MEC 5G Kubernetes management platform for virtualized computing. The 800G data center ethernet switch is designed for ultra-large data centers and is capable of providing 800Gbps per port. Currently, the system has the largest information exchange capacity in the world with 64 ports and 800Gbps.