www.magazine-industry-usa.com
Written on Modified on
TTI Europe Showcases Innovation at Paris Air Show 2023
Pioneering technologies from TTI Europe's partners reduce weight and size of aerospace parts.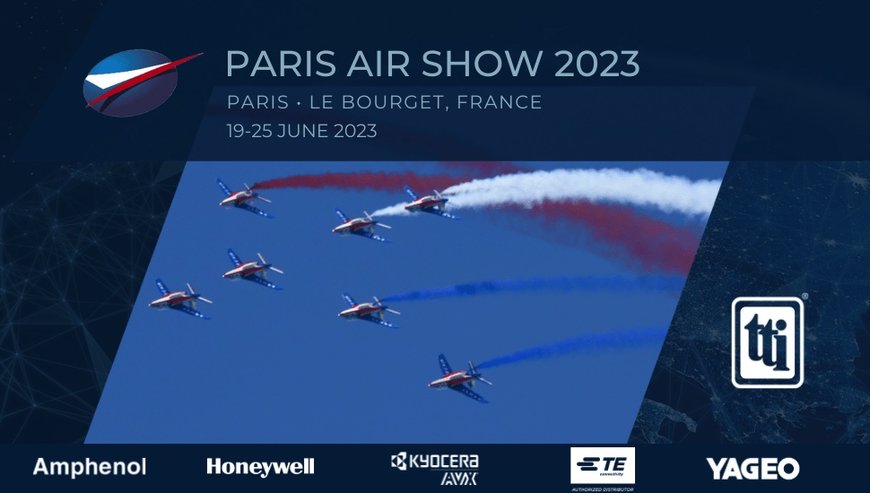 TTI Europe is exhibiting at the Paris Air Show 2023, hall 2b, Stand G 107.

TTI Europe, a leading specialty distributor of electronic components, will be showcasing innovative solutions for the aerospace industry at the
Paris Air Show 2023
, Hall 2b on stand G 107. TTI Europe is exhibiting together with its subsidiary
Ray-Q
, a specialist in interconnect and wiring solutions, who is unveiling pioneering techniques for routing and secure installation of highly complex harness assemblies in challenging aircraft locations. Visitors to the show, which takes place from 19th to 25th June 2023 at Le Bourget Airport, Paris, will be able to discover more about the latest advances in components for the aerospace industry as well as meet with TTI Europe's experts to understand how they can push the boundaries of their application.
"With over 50 years of dedicated service to the Aerospace industry, we have developed a specialist supplier line card that includes some of the market leaders and technology innovators," said Lee Thompson, European Marketing Director, Military, Aerospace & Space markets, TTI Europe. "Offering best-in-class supply chain solutions, available inventory and technical support, TTI continues to play an important role in project development and product selection."
Ray-Q has been at the forefront of the aerospace industry for the last 50 years providing pioneering interconnect solutions. The TTI subsidiary has a wealth of knowledge and its experts provide 360-degree service, including design, military-grade and airborne standard component sourcing, prototyping, assembly, and distribution.
"We are excited to be highlighting Ray-Q's innovations on the stand. Within the industry, there is a demand to reduce the weight and size of parts, and Ray-Q will be showcasing ground-breaking electrical and optical solutions that meet these needs and are specifically engineered for intricate and dynamic aircraft systems," said Yaron Livnat, CEO of Ray-Q.
TTI and Ray-Q offer the aerospace industry the broadest and deepest portfolio, with the ability to engage at the earliest stages in any design. Together, the two companies offer sampling and prototyping, customisation of established solutions from market-leading manufacturers and a range of value added services, which includes harness design, connector assembly, wire and cable cutting and respooling.
Furthermore, TTI is delighted to have some of its suppliers participating on this year's stand to offer support and product updates to their audience.
TE AD&M
offers interconnect, relay and sensor solutions and a special focus on the urban mobility market.
Amphenol
provides a wide portfolio of interconnect and sensor products for avionics.
Honeywell
offers market-leading ranges of sensors and switches.
Kyocera AVX
brings an expansion to its capacitor and RF ranges of products alongside its already strong portfolio to support aerospace and space. Last but not least,
Kemet
has a growing range of capacitor products that meet today's standards for applications in aerospace and space.
For more information about TTI Europe's solutions for the aerospace market, please visit
https://www.ttieurope.com/content/ttieurope/en/resources/featured-market/military-aerospace-space.html
and for details about Ray-Q visit
https://www.ray-q.com/
. For further information about the Paris Air Show 2023, please visit
https://www.siae.fr/en/
.
www.ttieurope.com