www.magazine-industry-usa.com
Written on Modified on
U.S. SECRETARY OF ENERGY JENNIFER GRANHOLM AND U.S. SENATOR MARK KELLY VISIT LI-CYCLE'S LITHIUM-ION BATTERY RECYCLING FACILITY IN ARIZONA
The leaders discussed the importance of Li-Cycle's safe and environmentally friendly Spoke & Hub Technologies, which play a key role in building a cleaner, domestic lithium-ion battery supply chain in the U.S.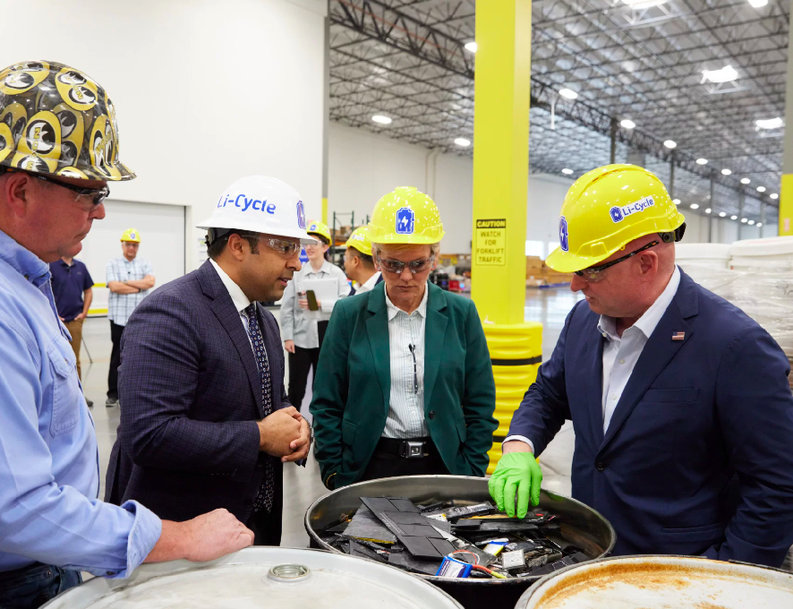 Li-Cycle was honoured to host U.S. Secretary of Energy, Jennifer Granholm, and U.S. Senator, Mark Kelly, at the Company's lithium-ion battery recycling facility located in Gilbert, Arizona.

During the visit, Secretary Granholm and Senator Kelly were joined by Li-Cycle's co-founder and CEO, Ajay Kochhar, as they toured Li-Cycle's Spoke facility and observed lithium-ion batteries being recycled through Li-Cycle's patented submerged shredding process. Li-Cycle's Arizona Spoke utilizes technology to directly process full electric vehicle (EV) batteries and energy storage batteries.

Li-Cycle's Arizona Spoke commenced operations in May 2022 and has a total processing capacity of 18,000 tonnes of lithium-ion battery material per year, with permitted future expansion potential, including flexibility to expand with a second main line. In addition to being a strategic location for Li-Cycle's Spoke, close to commercial customers for the sustainable supply of battery materials, Gilbert has a highly talented workforce and existing infrastructure that benefits the Company's operations. Li-Cycle continues to strengthen its working relationships with the local community, partnering with several organizations, such as the Arizona Commerce Authority, the Greater Phoenix Economic Council, and many more. Li-Cycle employs approximately 45 people in Arizona.

Li-Cycle recently received a conditional commitment for a loan of $375 million from the U.S. Department of Energy's Advanced Technology Vehicles Manufacturing program to support the development of its first Hub ("Rochester Hub") resource recovery facility, which is under development in Rochester, New York. The Company is on track to close the transaction in mid-2023.

The Rochester Hub is on track to start commissioning in late 2023. The facility is designed to process up to 35,000 tonnes of black mass per year, including black mass generated by the Arizona Spoke, sufficient for up to 225,000 electric vehicles. In addition to the production of battery-grade nickel and cobalt sulphate, the Rochester Hub is expected to be the first source of recycled battery-grade lithium carbonate in North America.
www.li-cycle.com