www.magazine-industry-usa.com
Written on Modified on
Cojali S. L. invites you to know its solutions for connectivity, electric vehicles, predictive maintenance and remote diagnostics at UITP
Cojali S. L. will take its solutions for connectivity, electric vehicles, predictive maintenance and remote diagnostics to UITP, the world's leading summit on public transport, which will be held in Barcelona, between 4 and 7 June.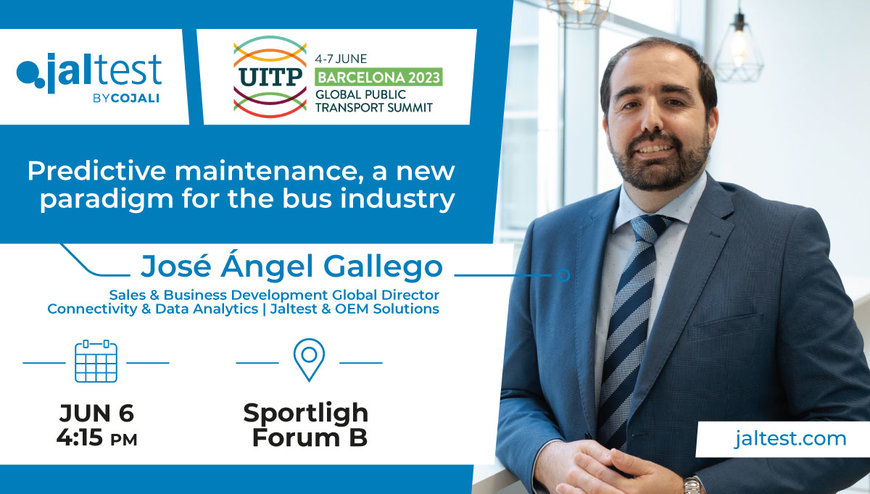 Gathering all the operators of the sector in an innovative format that combines congress sessions with an exhibition at which visitors will be able to know firsthand the latest innovations, solutions and products.
This event, the largest one worldwide in terms of sustainable mobility, will host a wide range of conferences in different spaces, among which we can find the lecture "Predictive maintenance, a new paradigm for the bus industry", which will take place on Tuesday, 6 June at 4:15 pm in the Spotlight Forum B, where José Ángel Gallego, Sales & Business Development Global Director of Jaltest Telematics, will talk on the technological and organisational challenge that entails the implementation of predictive maintenance strategies.
The lecture will focus on the challenges that the bus industry has to face in order to apply new approaches both for electric and internal combustion vehicles, and will discuss on how to benefit from all the data available and delivered by the bus, and the power of applying Disruptive Technologies such as Artificial Intelligence or Data Science, with the aim of identifying potential problems before these occur, as well as estimating the next maintenance window according to the remaining useful life of components.
About this speech, José Ángel Gallego points out that "nowadays, we can optimise vehicle availability time thanks to the high level of sensoring, the huge amount of data delivered by vehicles and the capability of transforming these data into knowledge, applying Artificial Intelligence models, thus being capable of anticipating to breakdowns or setting maintenance operations depending on the real state of components, which results in cost saving, safety increase and more efficient operations". He adds that "during the lecture, we will have the opportunity to deepen on how to reach these objectives by making use of the advanced remote diagnostics offered by Jaltest Telematics, unique on the market, and one of the largest data collections of multi-brand and multi-system commercial vehicles to boost predictive maintenance models".
Cojali invites you to attend the event by registering through the following link
https://bit.ly/3HkTUpA
and obtaining a free pass with the code SUM5706-VISITOR. With this code you will be able to attend this and other lectures, and visit the stand 6H216 at which Cojali will be present during the 4 days, where you will be able to know in depth Jaltest Telematics and Jaltest Diagnostics.
www.cojali.com