www.magazine-industry-usa.com
Written on Modified on
Siemens provides a holistic digital twin of a logistics center
Among the challenges the logistics and intralogistics industry faces are the increasing demand for energy efficiency, sustainability, labor shortages, and cybersecurity threats.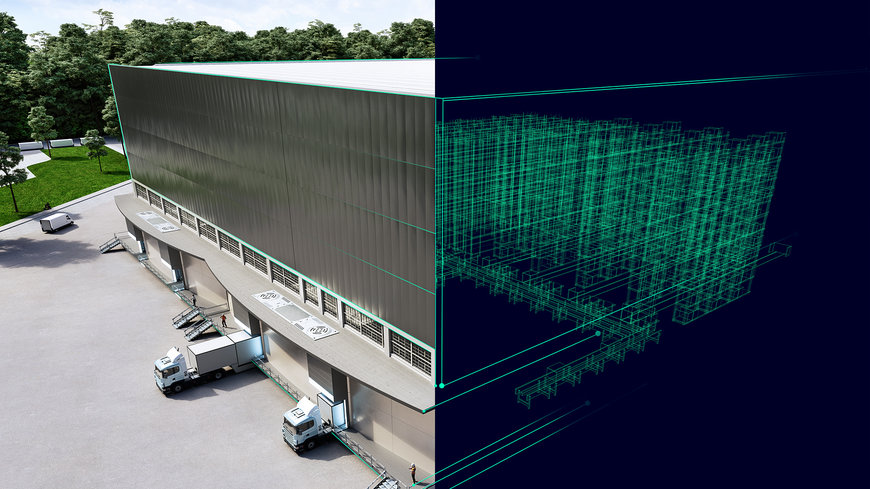 Trade show ( Logimat 2023, hall 3, booth D11 ) motto: "Intelligent intralogistics - experience the flow".
End-to-end automation and digitalization in intralogistics as a decisive competitive advantage
Siemens Xcelerator to make digital transformation easier, faster, and scalable
Highlight: Digital Twin of a real logistics center for more flexibility, higher throughput, and more sustainability
NEW: AI-based autonomous picking with robots
An extensive automation and digitalization portfolio along the entire value chain specifically for the intralogistics industry, Siemens supports machine builders and warehouse operators in overcoming these challenges. For this purpose, the digitalization and automation solutions from the Siemens Digital Enterprise portfolio as well as IoT-enabled hardware and software from the Siemens Xcelerator Portfolio cover all areas of warehouse operations such as goods receipt, transport, storage, picking, packaging, and shipping.

Fully automated material flow systems enable warehouse operations to be accelerated, processes to be optimized, costs and errors to be reduced, and ultimately higher throughput to be achieved. This will be demonstrated in concrete terms at the trade show using the digital twin of Siemens' own logistics center in Nuremberg. With 12,000 orders per day, 22,000 delivery note items, 27 stacker cranes and three kilometers of automatic conveyor belts, the distribution center serves 25,000 customers worldwide. Using this real-life example, customers can find out in detail at the trade show how simulation scenarios there help to optimize shift planning, for example, to achieve maximum productivity.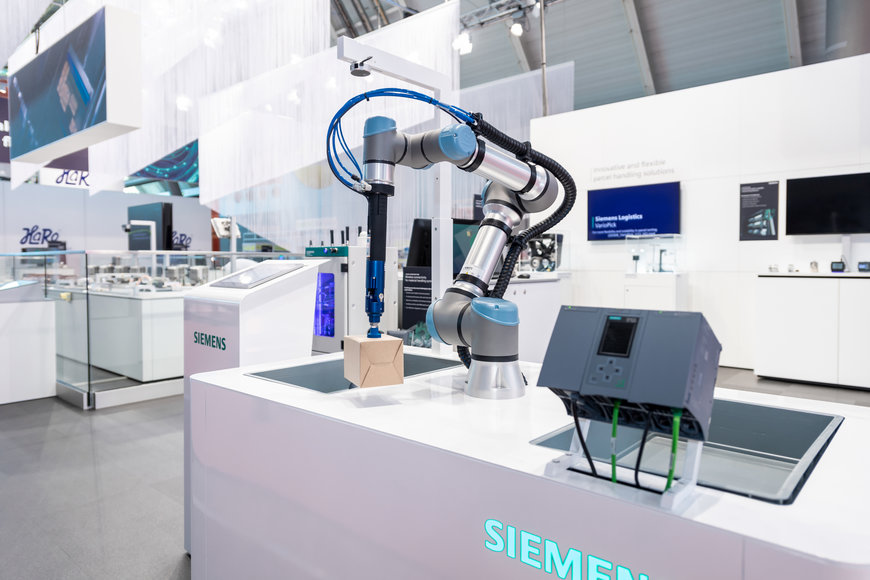 It also shows how digital twins help identify bottlenecks and peak loads to optimize material flow and how this can maintain throughput and overall warehouse performance, and thus fulfillment rates close to 100 percent. The seamless interaction between the real and digital worlds increases plant productivity and flexibility, sustainably reduces costs and energy consumption, and thus also the carbon footprint.

New: AI-based autonomous picking with robots
A new addition to the Siemens intralogistics portfolio is Simatic Robot Pick AI, an image processing software for robot solutions based on machine learning, which Siemens will also present at Logimat. The 3D image processing software enables robots to grip any item in warehouse picking tasks, regardless of its shape and size. A pre-trained deep learning algorithm drives this capability to identify the most appropriate 3D pick positions and provide them for robot execution. Reliable removal poses are calculated in the shortest possible time, enabling high-throughput systems without in-box collisions. No additional CAD-based training is required.

The application is designed to provide calculation times under 1.5 seconds already on the processing power of a tablet-like IPC, enabling system pick rates of over 1,000 picks per hour. The error rate averages less than two percent, which is equivalent to the error rate of a human performing the task. AI-controlled picking robots can thus contribute to the required flexibility in the future to process high variances of objects with different shapes, sizes, and packaging types in dynamically changing situations in a timely manner.

Effects of labor shortages can thus be mitigated while increasing operational efficiency in warehouses. Simatic Robot Pick AI offers seamless integration with the TIA Portal automation platform. With the help of the Simatic Robot Library, standardized communication can also be established between robot and PLC systems.

www.siemens.com