www.magazine-industry-usa.com
Written on Modified on
The ELESA+GANTER method of vibration dampening
ELESA+GANTER provides a selection of vibration mounts that feature AVR rubber buffer plates glued to NBR rubber vibration-damper body.
AVR-Q square rubber buffer plates & AVR-R rectangular rubber buffer plates.

The new AVR rubber buffer plates offer effective protection against vibrations and shocks where compressive resistance is required and are suitable for meeting the requirements of industrial air treatment systems (HVAC), for electrical panels and presses, possible sources of vibration that must be isolated as much as possible to prevent malfunctions and to protect the operator's health.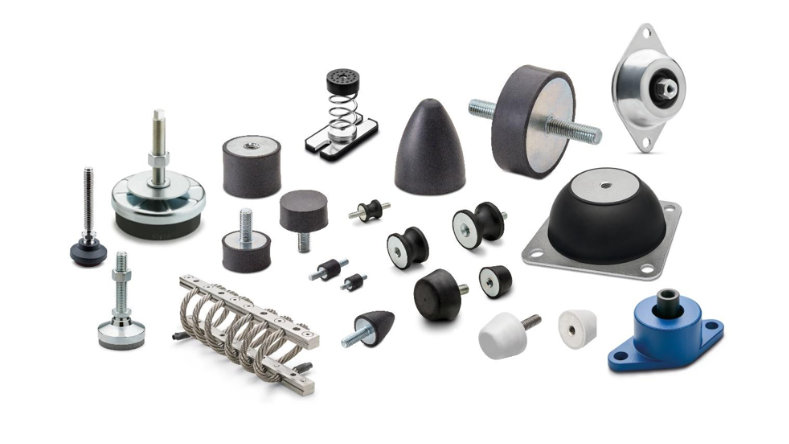 The following are also included in the Elesa+Ganter range of vibration mounts:

Rubber buffers in natural rubber NR, in combination with threaded inserts in zinc-plated steel or AISI 304 stainless steel in various shapes: cylindrical, conical, hourglass, bell-shaped. Silicone rubber (MVQ) vibration dampers in compliance with FDA (U.S. Food and Drug Administration), with the possibility of use in the food and medical industries. (various DVA, DVB, DVC, DVF, DVL series). Also available on request in different materials.
Flange mounts with double-acting flange,in blue painted aluminum (AVGseries).
Metal cushions in AISI304 stainless steel (AVFseries).
Wire rope isolators made entirely of AISI 316 stainless steel, consisting of two pairs of bars, joined together by a connecting cable with a helical winding - coil (AVC series).
Spring mounts with body and non-slip coating in NBR rubber (AVM series).
Vibration-damping levelling feet with bases, stems and damping element in different sizes and combinations of materials, suitable for loads up to 40,000 N to offer stability to heavy machinery even in the presence of strong vibrations.