www.magazine-industry-usa.com
Written on Modified on
Thomson Industries, Inc., a leading manufacturer of linear motion control solutions, has launched an online tool that simplifies the selection and purchase of their wide range of profile rail linear guide components.

Using the intuitive online selector tool, users can quickly and easily configure the optimal Thomson profile rail linear guide solution for their application.

Using the tool's intuitive interface, design and system engineers can reach their optimal profile rail solution in a matter of minutes, eliminating potentially hours of research and analysis.
"Thomson offers the broadest line of profile rail linear guides in the motion control industry, and we now make it super easy for designers to quickly view their options and match a solution to their applications," said Markus Brändle, Product Line Specialist – Linear Bearings and Guides at Thomson. "The new selector tool is part of our commitment to bringing online industrial buyers the same levels of convenience and decision support they get when working closely with Thomson application engineers."
The Thomson profile rail offering includes the next generation 500 Series ball and roller linear guides, 400 Series, AccuMini, compact MicroGuide
®
, and lightweightT-Series. It is a complete family of rails and carriages in a broad range of styles, sizes and unique features produced to industry standard dimensions for easy retrofitting into existing applications or designing into new ones.
From an intuitive menu displaying the main types of profile rail linear guides, users reach a list of recommended solutions for their application in only a few clicks. They can then filter on parameters such as load, length, carriage style, accuracy and required corrosion resistance. Up-front pricing and lead times, and user-prompted live assistance are also accessible – all without leaving the original page.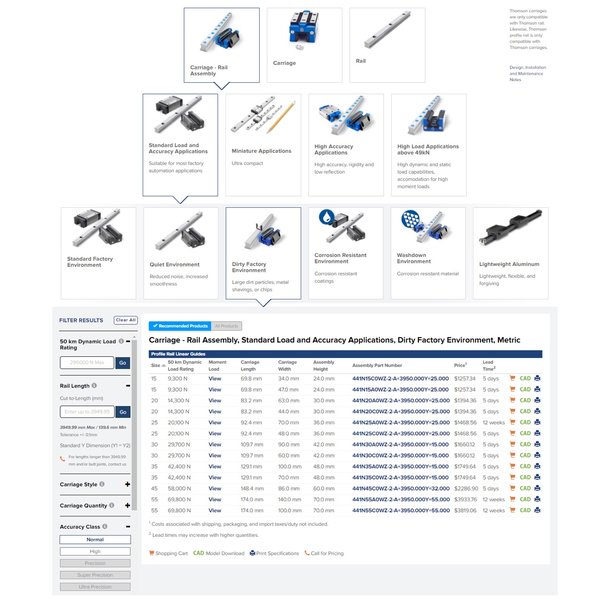 The new Thomson online tool for profile rail linear guides streamlines the search, selection and overall purchasing experience.

The whole selection process typically takes less than five minutes to get the user to the optimised profile rail that meets their requirements. Once the configuration is complete, they can either add it to a shopping cart for immediate purchase, download a 3D model into their CAD program or access a PDF containing product features, benefits and technical specifications.
The Thomson profile linear rails tool can be found at
https://www.thomsonlinear.com/en/products/profile-rail-products.
www.thomsonlinear.com