www.magazine-industry-usa.com
Written on Modified on
Despite its highly compact form, the new fanless embedded PC Nuvo-7531 from Acceed offers wide-ranging standard equipment.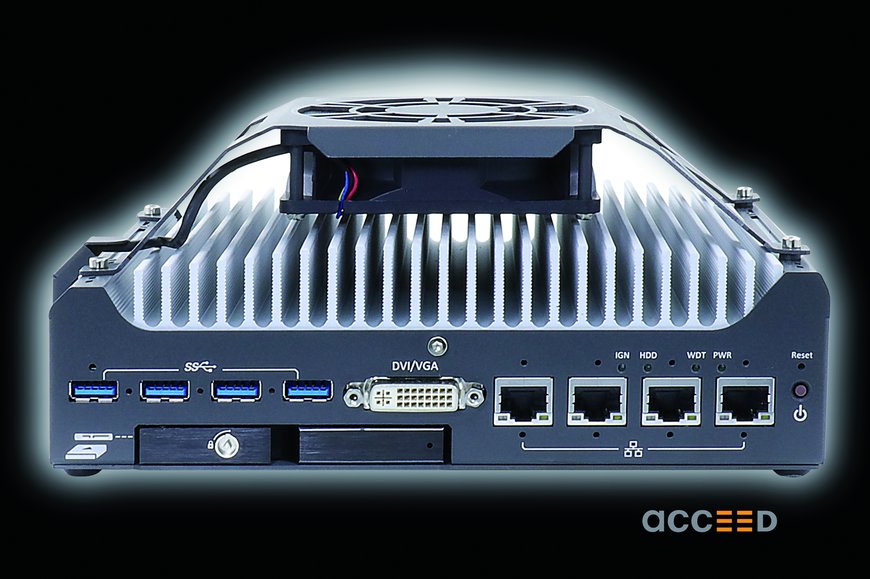 Nuvo-7531 from Acceed with a hot swap hard drive enclosure and individual features

The robust controller continues the Nuvo series which has been successful in the industrial area for several years and, with 8th and 9th generation Intel processors, achieves a 50 percent performance increase vis-à-vis its predecessors. The German distributor Acceed equips the controller specifically for the customer and thus cost-efficiently tailor-made for its planned use. The selection available includes various processors, HDD and SSD disks, storage options, installation accessories, mini PCIe cards for special tasks (for example radio modules) and a special ventilation kit for using a 65W CPU at environmental temperatures of up to 60°C.
The casing and equipment of the Nuvo-7531 are attuned to industrial requirements, also via the temperature range from -25 to +60 °C at full CPU load. Despite the compact dimensions of its low-profile design with only 212 x 165 x 63 mm, the new embedded controller is a genuine power package and offers comprehensive configurations with the important interfaces for flexible use. These also include four GbE and four USB 3.1 ports (Gen1) with screw connections as well as two serial COM interfaces, respectively one four-channel digital input and output, two further USB 2.0 ports, three internal mini PCI-e slots, one M.2 SATA interface and two graphics outputs with a resolution of up to 4096 x 2304 pixels. All the external interfaces are accessible from the front side, also the SSD or HDD enclosure which can be exchanged during operation (hot swapping).
The fanless full metal chassis is manufactured from a resilient aluminium alloy, designed to meet and certified for the high requirements of the industrial environment (factory automation, logistics, building management, robotics and machine vision) according to MIL-STD-810G, EN 55032 and EN 55024. Product Manager Dennis Chen presents the Nuvo-7531 as the "baby giant in the world of robust embedded controllers" and explains: "Whereas other embedded controllers with the same i7/i5 CPU have larger dimensions, the Nuvo-7531 provides identical processor power with half to two-thirds of the size. It is the better choice for applications which require high-performance platforms within restricted space."
Due to personal contact since the initial developments, the distributor Acceed is familiar with this series and others from the manufacturer and, with its service, able to meet the project-specific equipment and assembly requirements ideally.
www.acceed.com