www.magazine-industry-usa.com
Written on Modified on
Icon Polymer Group, a technology company in engineered polymer products, has further confirmed its status as a key partner to the global aerospace and defence sector by hosting a group of senior sector decision makers at its global headquarters in Retford, UK.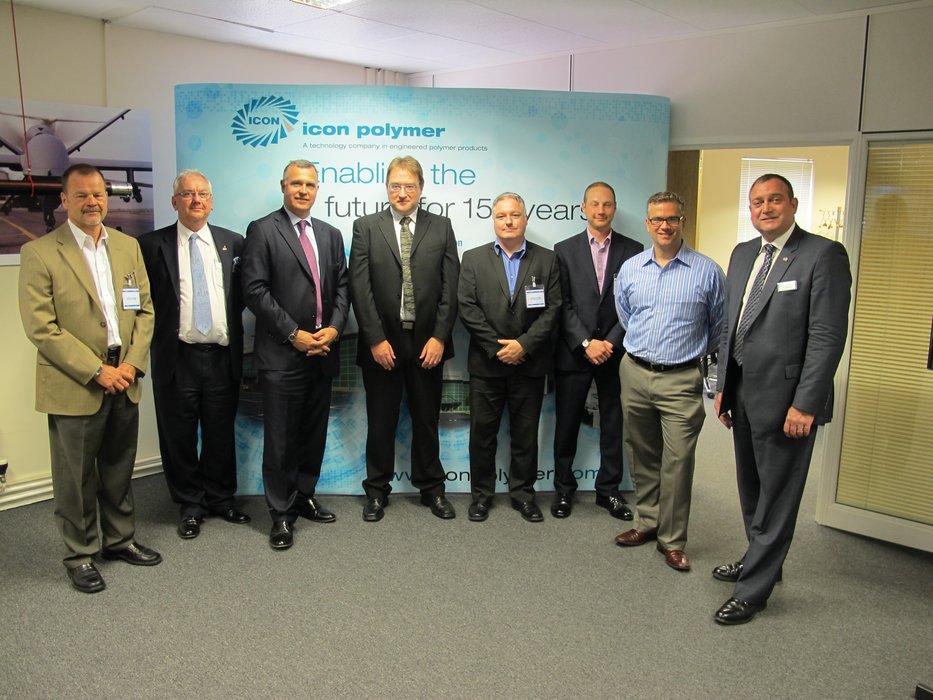 The visit was part of a UK Trade & Investment (UKTI) initiative to showcase the country's niche manufacturing capabilities and link up UK-based suppliers with potential customer and partners from across the globe.
Visitors included representatives from major names such as Lockheed Martin, Northrop Grumman and JGW Group who toured Icon's manufacturing facility to discover more about the highly innovative technology platforms the company is developing.
These include the first 'Intelligent Connector (IC)' for in-flight refuelling. The IconIC™ hose is a key enabling technology which for the first time can safely and securely accommodate power with telemetry cables and fibre optics for data transfer, while performing in-flight refuelling duties.
Visitors also heard about the Icon IF refuelling hose which incorporates a modified fluoropolymer core enabling more rapid flow of fuel, either reducing refuelling time or allowing the same flow to be achieved with a smaller diameter hose, creating a weight saving. Both have a significant, positive impact on reducing operational costs while typically further extending the fatigue life of the aircraft.
The final presentation covered Icon's pioneering work in developing flexible and rigid thermally conductive polymers which can deliver significant weight savings over metal alternatives in a variety of applications without compromising performance. The technology has the potential to offer further benefits by 'harvesting' the energy generated, which can then power sensors or applications such as the IconIC™ refuelling hose.
Icon is an established partner to the sector globally, delivering engineered solutions across a comprehensive range of commercial and military platforms, on the land, sea and air. Icon is working with all of the major aircraft manufacturers, including Airbus, BAE, Boeing, Bombardier and Lockheed Martin, as well as their tier 1 primes, while also bringing innovative cost reduction and weight saving technologies to both off-highway vehicles and sea applications.
Tony Fletcher of UKTI commented: "This was a very impressive display of UK manufacturing and the technologies being developed. UKTI is looking forward to working with Icon to achieve its global business objectives."
Chris Dent, Head of Research and Technology at Lockheed Martin UK, Ampthill, added: "It was great to participate in this event with UKTI and see the technologies being forged by UK industry."
Neil Wilkinson, Global Business Director of Icon Polymer, commented: "This was a fantastic opportunity to showcase the Icon offering and our work in key enabling technologies which can act as the interface between a variety of functions.
"The interest from the visitors was very strong and we now look forward to collaborating with key partners from within the sector to further develop the technology platforms we have created and deliver their true potential in the field of operation."
Icon Polymer Group is a leader in the design, manufacture and qualification of highly engineered polymer products using the latest technology, materials and production processes. The company's innovative technology is used in high-performance applications in aerospace, defence, rail and off-highway.
For further information on Icon Polymer Group, visit www.iconpolymer.com.