www.magazine-industry-usa.com
Written on Modified on
This innovative solution offers higher accuracy, stability, speed and ease-of-use compared to the previous generation of LS-7000 Series micrometers that are part of Keyence's flagship products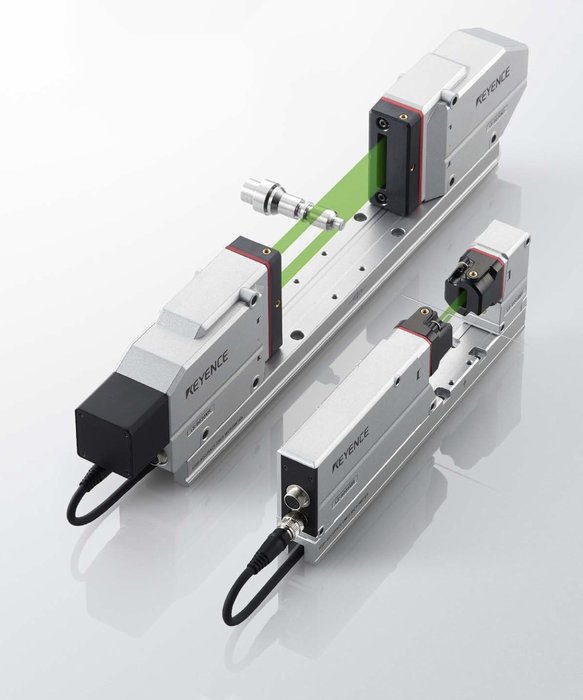 No moving parts
Conventional micrometers typically use laser-scanning technology, which requires moving parts that limit their high-speed measurement capability and accuracy. The LS-9000 Series integrates a measurement system consisting of three CMOS sensors and a green LED light source. The fact that this optical measurement solution has no moving parts gives it a longer service life, higher accuracy and faster measurement speed.
Three CMOS sensors for efficient measurements
The micrometer's measurement efficiency and performance are enhanced by each of its three CMOS sensors. The first carries out the actual measurements. The second compensates for the tilt of targets in order to correct for tilt errors. Target tilt, which can be caused by excessive vibrations or poor part positioning, is a recurring problem on automated production lines. The third sensor detects the position of targets placed between the transmitter and the receiver. Unique to the market, this functionality makes it possible to adjust the focal plane and achieve high-accuracy measurements with very high repeatability (0.1 µm and 0.03 µm for the high-repeatability model).
High-intensity green LED
Two advantages of green LED light sources are that they last much longer than conventional LED light sources and emit a collimated beam of uniform high-intensity light. The high intensity of the green LEDs avoids the laser beam degradation that is typical of conventional systems. In addition, no moving parts are used to generate the light beam. This avoids wear on the motor and mirror system and thus the need to replace them prematurely or calibrate them regularly. Servicing is therefore necessary only after long periods of use.
16,000 Hz sampling rate
With a sampling rate of 16,000 Hz, the LS-9000 Series offers unparalleled measurement speed that far outstrips the 2400 Hz rate achieved by the previous generation's models and the maximum rate of 3600 Hz possible with competing systems. The peripheral circuits of the high-speed exposure CMOS sensor have been integrated into a single chip, dramatically improving the S/N ratio and enabling the LS-9000 Series to achieve high-speed sampling. For example, targets moving at a rate of 1,000 m/min. can be measured at a pitch of around 1 µm.
Measurement of fine-diameter wire
The LS-9000 Series combines these unprecedented electronic processing capabilities with its optical measurement process to measure cables, wires and even optical fibres with diameters as small as 10 µm, versus 40 µm possible with the previous versions. Depending on the model of micrometer, the measurement range of the LS-9000 Series is 0.04 mm to 6 mm with 0.03 µm repeatability or of 0.3 mm to 30 mm with 0.1 µm repeatability. The measurement accuracy achieved is, respectively, ± 0.5 µm for the 6 mm measurement range and ± 2 µm for the 30 mm measurement range.
Rugged construction
In addition to its advanced measurement capabilities and repeatability, the LS-9000 Series stands out by its ability to achieve stable measurements in harsh environments. Its IP67 housing is equipped with an air purge mechanism that eliminates all contaminants so that measurements are not skewed by water, dust and oil mists. Lastly, the innovative die-cast housing is mechanically isolated from the internal optical unit and designed to eliminate the effects of temperature variations on measurements.
Easy setup software
Last but not least, each LS-9000 micrometer comes with Keyence's PC-based support software for setting it to the requirements of each measurement application. This is done via a window that displays a clear picture of the micrometer and by selecting a number of characteristics with the mouse. Naturally, the selected settings are saved to memory. The software features 12 independent display tools that allow you to view just the data you need. With a storage capacity of 400,000 data points, data can be automatically recorded for export to an Excel file.