www.magazine-industry-usa.com
Written on Modified on
The new Méthavalor biogas plant in eastern France uses AIR LIQUIDE's exclusive membrane biogas upgrader. CIAT, a leading name in Europe in biogas dehumidification, was selected for this project.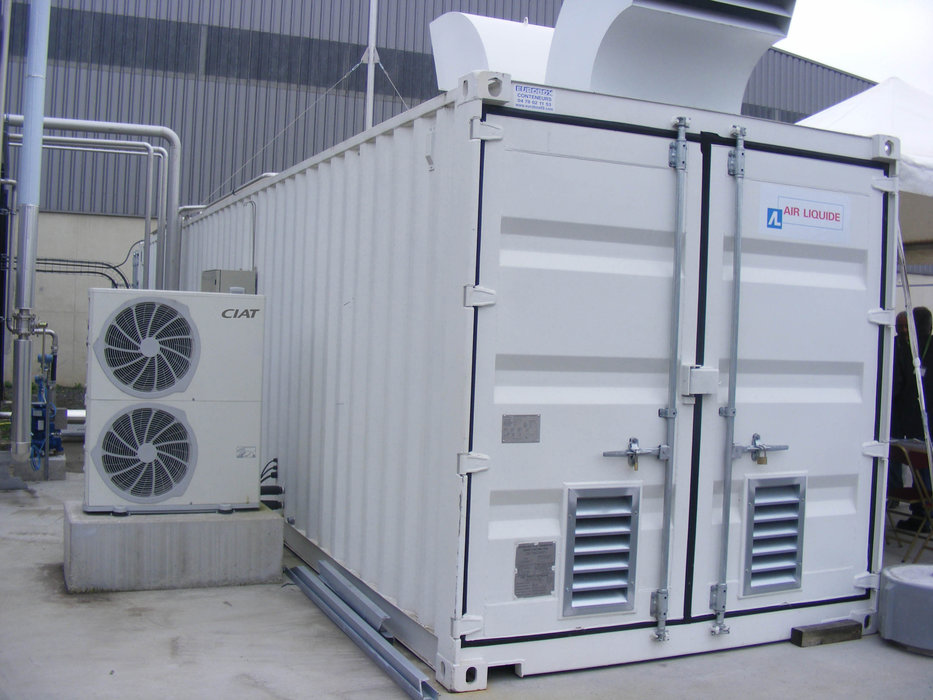 The municipal solid waste produced by the 390,000 inhabitants of 291 towns and villages in eastern France is transported and processed by Sydème, a public company. In October 2012, Sydème commissioned a biogas plant that runs on biodegradable municipal waste. Called Méthavalor, the plant has a capacity of 45,000 tonnes a year and produces 5,500,000 m³ of biogas. Sydème's comprehensive facility is the first in France to combine, on a single site, every innovative technology used to convert biowaste into biomethane for grid injection and vehicle fuel. Biowaste obtained from source-separated collections is processed by anaerobic digestion to produce biogas (this is the first experiment involving anaerobic digestion of biowaste collected simultaneously with other types of waste). The biogas is purified by AIR LIQUIDE into biomethane (the first membrane biogas unit in France). The biomethane is then injected by GRDF (the first injection plant installed in France by GRDF) into a biomethane fuelling station operated by GNVERT (the first public biomethane vehicle fuel station in France) to power a fleet of 34 gas-fuelled vehicles (first fleet of commercial vehicles that run on biomethane).
Biowaste recovery consists of five steps: presorting (removal of unwanted items such as metal, plastic, etc.); preparation of the biowaste for anaerobic digestion; feeding of the biowaste into a digester; maturation, extraction and dewatering of the digestate; and finally composting.
Raw biogas produced from anaerobic digestion contains impurities and, more significantly 40% carbon dioxide. These impurities and CO
2
must be removed before the biogas may be used. At the heart of this plant is a patented AIR LIQUIDE upgrading unit that uses specific polymer membranes made by Medal to separate the methane from the CO
2
and produce quality biomethane with a methane content of over 98%.
It is in this process that CIAT's dehumidification system comes into play. CIAT is Europe's leading name in biogas dehumidification and has an installed base of nearly 1500 DRYPACK systems in operation around the world. DRYPACK condenses water vapour contained in biogas by cooling the gas to the appropriate temperature and finely separates the droplets to prevent them from being re-entrained into the biogas. The advantage of this process is that, by separating and draining away these droplets, it removes a portion of the impurities contained in the biogas. The system installed at the Méthavalor plant is a DRYPACK Plus consisting of a non-skid-mounted chiller, heat exchanger and separator. Each module was delivered separately for easy integration in the AIR LIQUIDE membrane upgrader, which is housed inside a shipping container.
DRYPACK features shell-and-tube heat exchangers, a packaged water chiller and a droplet separator in a homogenous, optimised system that is either frame mounted or ready for assembly. The system is available in three versions: DRYPACK One, DRYPACK Flex and DRYPACK Plus. The heat transfer optimisation, energy efficiency of the chillers and high droplet separation efficiency of each DRYPACK system ensure performance and savings. With a capacity of as much as 6000 Nm³/h, DRYPACK Plus is both the most powerful version and offers the widest adaptability. Whatever the type of gas, flow rate, temperature and desired humidity content, CIAT's components can be used together in a limitless number of combinations. For example, DRYPACK Plus can be equipped with a precooling system consisting of a shell-and-tube heat exchanger connected to a dry cooler to shut off the chiller and thus lower the system's energy consumption. Precooling substantially lowers the entire system's running costs.
CIAT and AIR LIQUIDE have conducted many studies to best adapt DRYPACK to AIR LIQUIDE's entire range of membrane upgraders (from 100 m³ per hour to 1500 m³ per hour of raw gas). CIAT's ability to follow the path of AIR LIQUIDE in systems installed around the world is also a key factor of this collaboration's success.
CIAT's Energy & Environment activity has developed Water Treatment, Waste Treatment and Energy solutions and approaches for a variety of applications, including:
- biogas treatment (cooling, dehumidification, etc.);
- heat management of cogeneration units;
- use of engine heat (heat recovery, preparers for drying applications, etc.) in order to be able to obtain the efficiency bonus;
- recovery of heat from liquid effluents or aeration compressors;
- treatment of air in hydrogen sulphide environments.
Methavalor1.jpg: AIR LIQUIDE biogas upgrader containing a CIAT DRYPACK dehumidification system
Methavalor2.jpg: Sydème's Méthavalor waste treatment plant at Forbach in eastern France
Methavalor3.jpg, Methavalor4.jpg and Methavalor5.jpg: Detailed views of the AIR LIQUIDE biogas upgrading system fitted with CIAT equipment