www.magazine-industry-usa.com
Written on Modified on
Coadis Line is the new-generation CIAT comfort unit. All-in-one and particularly easy to integrate, it is designed to guarantee your projects superior results both in terms of design and performance. It reduces energy consumption, improves air quality, and adapts easily to all installation configurations. An eco-designed solution, Coadis Line is 87% recyclable, and in France, it has won the "coup de coeur" special prize awarded by the Rhône-Alpes Trophies for Eco-innovations. Coadis Line is integrated into the Hysys water loop system solution that provides heating, cooling and air quality for offices, hotels and retirement homes.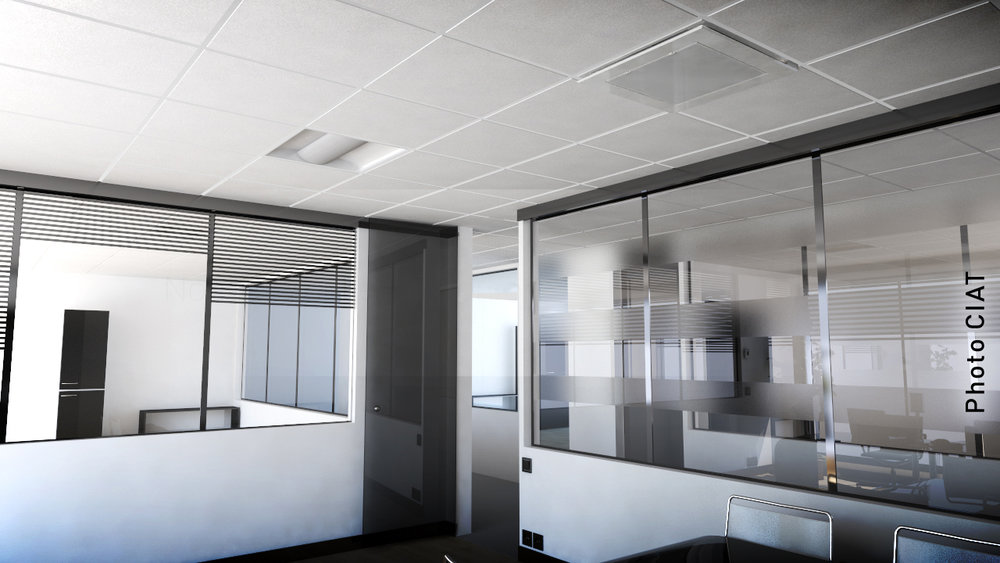 By combining Coanda effect diffusion with ultra high quality Epure filtration as standard, Coadis Line provides enhanced working comfort for users. It enables them to benefit from excellent indoor air quality, an advantage that makes all the difference when compared to passive equipment. CIAT, pioneer for Coanda diffusion system, goes even further with Coadis Line, by optimising it in accordance with standard EN ISO 7730. Occupants are thus placed in a "comfort zone" from head to toe protected from the unpleasant thermal phenomena that can be caused by direct supply systems. What is more, Coadis Line also features Epure technology, which safeguards occupants' health and guarantees excellent indoor air quality thanks to a filtration system that takes concentration levels of PM 2.5 particles suspended in the air to below the threshold recommended by the WHO (10 µg/m³).
Coadis Line is also characterised by its low energy consumption levels, thanks to its High Energy Efficiency (HEE) motor, fitted as standard, which uses very little power, cutting electricity consumption by up to 85%, and its exchanger coils optimised to match the performance levels of the system's other equipment. Coadis Line hence plays an active part in obtaining certifications such as HQE, EPBD, BREEAM, or LEED, and meets the requirements set out in the new French RT2012 thermal regulations.
CIAT has created the Flexisay concept to cater for all types of space, their modular characteristics and future developments. The Coadis line's single-slit, one- or four-way diffusion system on a single type of frame, allows it to be installed in partitioned or open-space office layouts alike. The "one-way" version is designed for partitioned areas covering 10 to 20 sq. m with each unit placed at the edge of the area. The four-way version is dedicated to open spaces, with the unit installed centrally. Both configurations fit into 600 x 600 mm or 675 x 675 mm suspended ceiling grids. In each case, the interior elements can be accessed without removing the suspended ceiling tiles, via the quick-release filter holder grille that is hinged to provide maximum freedom of movement during servicing work.
Coadis Line is an integral part of the CIAT Group's Sustainable Development programme, and fully reflects its eco-design policy. The comfort unit can be completely disassembled, and above all, it is 87% recyclable. This is mainly thanks to the compatibility of the plastics used. Moreover, it is assembled without using any adhesives or rivets, and the number of fixing elements is reduced by 40%. Its new compact design also reduces the weight of the raw materials used by 30%, and their volume by 21%. Furthermore, CIAT selects suppliers of raw materials that are close to the factory, thus cutting transport packaging volumes by 50%, to significantly reduce CO2 emission levels.
Coadis Line is integrated into the Hysys water loop system solutions designed by CIAT. Drawing on tried and tested standard components, the Hysys system solutions are more efficient and use less energy, enabling professional specialists and users to comply with the most demanding environmental regulations. They are adapted to suit the specific constraints of each market sector, with Hysys Office for administration and office installations, Hysys Hotel for hotel buildings, and Hysys Senior for retirement homes, and they are fully modular. This means that there are more than a hundred different cost-effective versions available to suit each specific configuration. The HYSYS solutions are fully upgradeable and they feature several comfort ranges, all providing the most efficient environmental performance levels.
At a time when governments are striving to restore the balance between local industries subjected to strict environmental regulations, and "low-cost" countries, it is worth pointing out that all the units in the Coadis Line range are made in CIAT's French factories.