www.magazine-industry-usa.com
Written on Modified on
"Visit us at www.kennametal.com," has taken on a new level of meaning and value with the newly redesigned website from Kennametal Inc.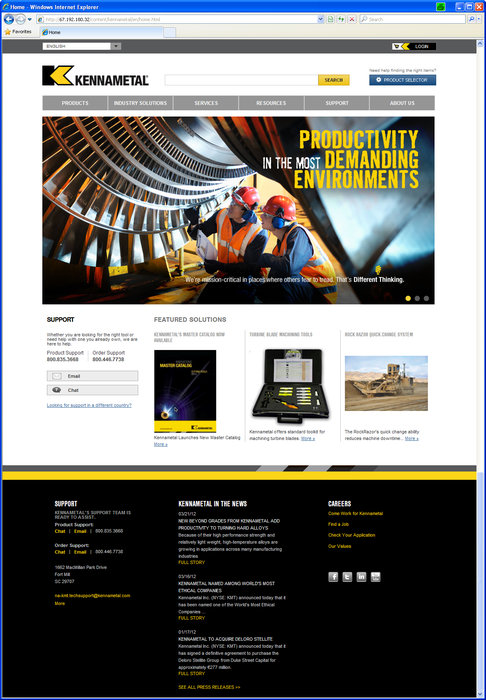 Emphasizing the company's business around the world, the website is available for viewing in English, German, French, Italian, Spanish, Portuguese, Chinese, Japanese, and Korean. The front page offers a crisp, functional format for the user to quickly access Kennametal tooling and tool-related information by product, industry, services, resources, and support.
"Products" leads the user to solutions for advancing productivity in metalworking, mining, construction, surface treatment, and advanced materials. "Industry" cross-references these solutions across aerospace, transportation, energy, earthworks, general engineering, and machine tool industries. "Services" provides vital added-value descriptions covering carbide recycling, tool reconditioning and repair, innovative cost-per-part programs, while "Resources" contains speed and feed calculators, grade and geometry conversion guides, CAD drawings, how to locate distributor and training experts, and downloads of Kennametal literature, including the latest Master Catalog 2013.
Enhanced product description pages feature such cross-functional value as action videos, where available, full features and benefits, all related and compatible parts, and one-click access for live chatting with a Kennametal customer service representative.
For more, including articles on Kennametal productivity solutions in the world's most demanding environments, visit the new www.kennametal.com.