www.magazine-industry-usa.com
Written on Modified on
HMS Industrial Networks AB
HMS Industrial Networks has delivered its two-millionth Anybus® module. The product was shipped to Atlas Copco Tools in Sweden who needed to connect one of their control systems to EtherNet/IP.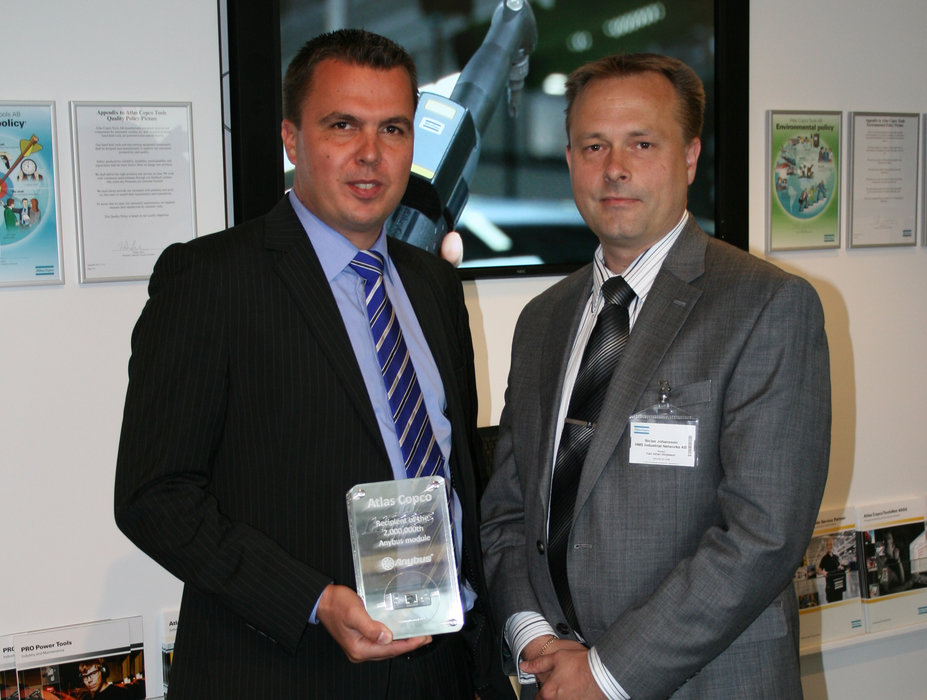 In early 2012, the two-millionth Anybus module left HMS's production facility in Halmstad, Sweden. The module in question was an Anybus CompactCom™ providing connectivity to EtherNet/IP. It is now embedded into an Atlas Copco Power Focus 4000 – a state-of-the-art control system for industrial nutrunners.
"At HMS, we are very proud to have reached this significant milestone, and it is especially pleasing that our two-millionth module went to Atlas Copco – a progressive and leading industrial company which has been with us since the very beginning," says Niclas Johansson, Global Sales Director at HMS. "This milestone confirms our position as the number one supplier of products for industrial communication, and we will continue to deliver Anybus products that provide customers with solid and reliable network connectivity."
Atlas Copco – Anybus user since the 1990s

Atlas Copco was an early adopter of the Anybus concept and has been using the technology since the mid-1990s. Anybus provides Atlas Copco's power tools with connectivity to all major industrial networks. Since the Anybus modules are interchangeable, it is possible to simply switch to another module to gain connectivity to another network. No hardware or software modifications are needed.
KarlJohan Börjeson, Vice President, Marketing at Atlas Copco Motor Vehicles says: "In order to keep delivering state-of-the art products to our customers, we need to stay at the forefront of technology. By using Anybus, we can connect our products to any industrial network and make sure they are always up to date with the latest network technology. Anybus means that we can focus on our core competence instead of keeping up with all the industrial networks."
The Anybus story

The first Anybus module was developed in 1994. Back then, it was a revolutionary technology advancement providing users with access to any of the rapidly evolving fieldbus networks. Today, 18 years later, Anybus modules are used by millions of industrial devices all over the world, keeping them up to date with the latest advancements in industrial connectivity. The communication modules are either embedded into the customers' products, or act as stand-alone "translators" between industrial devices and networks.
Caption:

KarlJohan Börjeson, Vice President, Marketing at Atlas Copco Tools receiving the recognition award for the 2,000,000th Anybus from HMS Global Sales Director Niclas Johansson.