www.magazine-industry-usa.com
Written on Modified on
Waunakee, WI – NORD announces the addition of the helical-bevel gear series to its successful high-performance screw conveyor package. The newly designed right angle bevel products allow you to install gear boxes in confined spaces while maintaining the simplicity, reliability and efficiency of NORD's traditional gearmotors and speed reducers.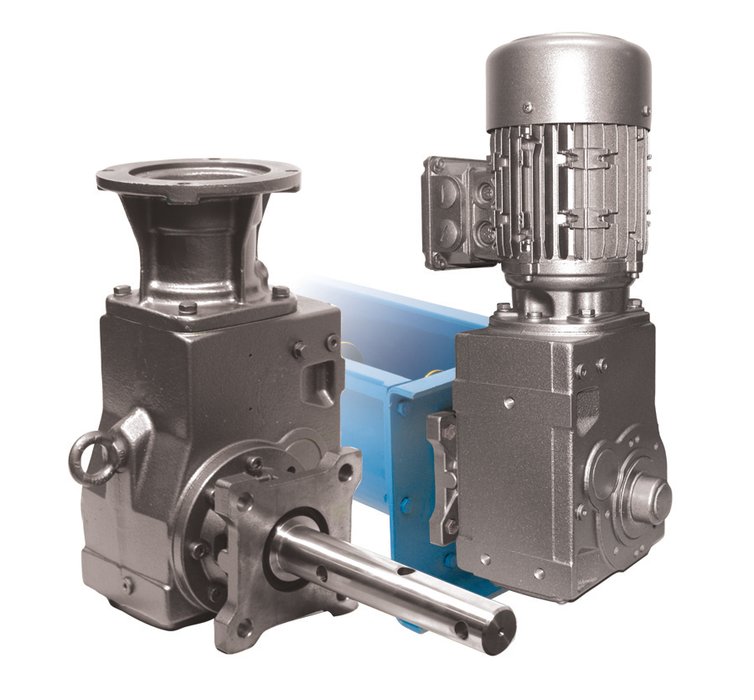 Standard Features
The right angle bevel series is more compact compared to the existing parallel helical screw conveyor package. Its right-angle design is compatible with standard CEMA mounting. The three-hole tapered CEMA drive shaft offers easy mounting and removal. Its adjustable flange allows for multiple bolt patterns. It features an optimized sealing system that includes dual Viton
®
lip seals, grease impregnated packing seal, dual gap seals, material evacuation ports, a shaft material ditch and QuadrilipTM sealing.
The NORD right angle bevel series uses either the direct coupled gearmotor or NEMA C-face input design, making it extremely efficient. The simplified design eliminates the need for a separate V belt. Belted systems are costly and require additional parts, lowering drive performance. The NORD helical-bevel design provides optimal performance and decreases maintenance time and cost.
NORD helical-bevel screw conveyor drives produce torque levels ranging up to 42480 lb-in and powers up to 30 hp, depending on model. Each model operates on a 95 percent efficiency level or greater, maximizing productivity.
All NORD models include the UNICASE™ design. Speed reducer housings are constructed of one solid cast-iron piece containing the bearings and seal seats, which eliminates the need for splits or bolt-on carriers that can weaken the housing and allow oil leaks. This cast-iron design can withstand weight from the heaviest loads.
All NORD products are specially designed for protection against the harshest environmental conditions and feature:
-The AUTOVENT™ breather regulates airflow and controls pressure inside the gear case. It also protects bearings by blocking out environmental materials like water, dust and corrosives.
-Stainless steel protective paint protects against corrosion and increases durability. The internal housing is coated with a high-performance synthetic primer to lock in any residual casting sand and seal any imperfections.
For more information about the NORD Gear right angle bevel series or the parallel helical SCP screw conveyor package, contact:
Barbara Houdek
NORD Gear Corporation
A member of the NORD Drivesystem Group
800 NORD Drive, P.O. Box 367
Waunakee, WI 53597
(888) 314-6673 or (608) 849-7300
Fax (800) 373-6673
www.nord.com