www.magazine-industry-usa.com
Written on Modified on
Improved visibility, intrusion detection up to 5 mm from the edge, response time as little as 7 ms, automatic cycle starts, IP67 protection, a heavy duty version and still the same market-leading simplicity of installation, with the possibility of placing curtain units edge-to-edge: the new SL-V series is the most complete solution on the market.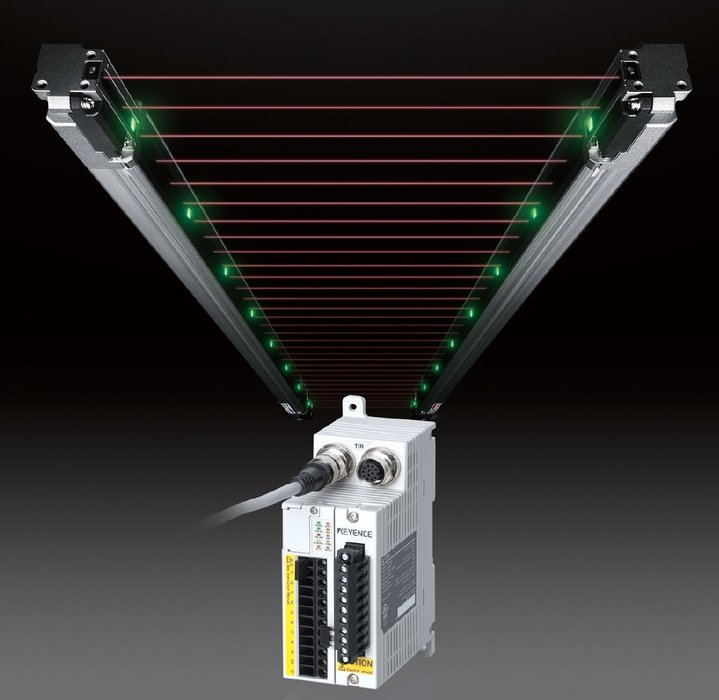 The SL-V safety light curtains offer many advantages to users. Visibility of its operating state has been improved. Two rows of LEDs clearly display the state of the system, so the operator knows immediately the state of the system. The SL-V series has a built-in cycle start. Alarm clearance is detected automatically, and operator intervention is no longer needed to restart the machine. This system is still the only product on the market capable of edge detection at 5 mm from the end of the safety light curtain. This makes the system safer, and also easier to install, as the curtain units can be joined edge-to-edge at all possible angles, with no loss of resolution and no dead zones.
Installation is particularly simple. The LEDs indicate the correct positioning during assembly, and a full range of accessories enables the curtains to be mounted in all positions.
The SL-V series features an additional unique technical feature. Thanks to the built-in external device control function, type 4 devices can be managed without safety relay. The maximum capacity that can be managed with the OSSD output is a current of up to 500 mA, allowing direct control of external devices. The advantages are reduced cost and minimum response time, the shortest on the market (as low as 7ms). This means that the safety curtains can be placed closer to the equipment to which access must be protected. The SL-V series enables automatic cycle starts.
The SL-V series feature an IP67 protection rating. It is also available in a particularly compact mechanically toughened heavy duty version SL-VHM (46.5x40mm). It avoids the need for the usual expensive enclosures which are complicated to install. The safety curtains are available in a range of lengths from 230mm to 1270mm, and up to 1926mm for the HM version.
This product is particularly suitable for the protection of dangerous zones of the machine and for manufacturers wishing to improve the safety and ergonomics of their equipment.