www.magazine-industry-usa.com
Written on Modified on
Florida State University and Eaton were recognized for their contribution to the field of industrial electronics after presenting their paper on testing DC solid state circuit breakers.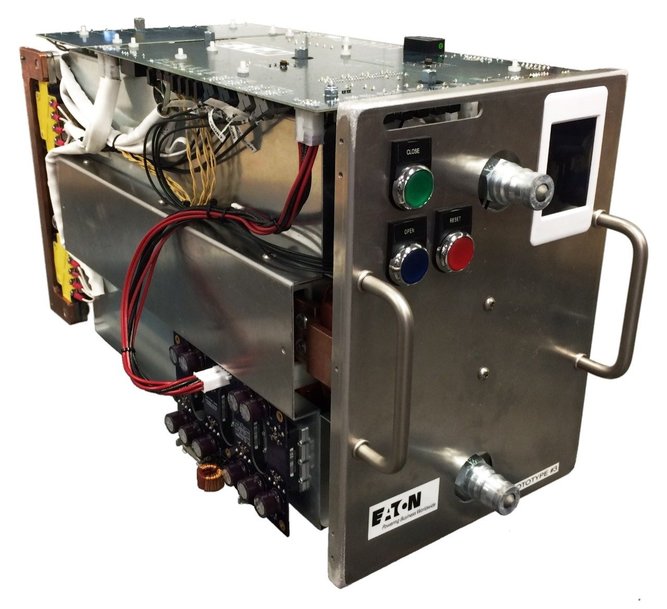 A joint paper by engineers from Florida State University (FSU) and Eaton - "Testing Operation and Coordination of DC Solid State Circuit Breakers" - has been recognized for its contribution to the field of industrial electronics at IECON, the annual conference of the IEEE Industrial Electronics Society (IES).
Winning the IES Best Conference Paper Award, the submission described the team's approach to testing the operation and coordination of medium-voltage direct current (MVDC) power distribution and protection solid state circuit breakers (SSCBs) for shipboard power systems.
The work was commissioned and funded by the US Office of Naval Research, which considers MVDC a promising means of power distribution for next-generation naval vessels. A broad agency announcement for the development of high-power solid state circuit protection for power distribution and energy storage was issued in 2013.
Describing the process of testing one of the navy's proposed SSCB technologies, this award-winning research paper was a joint effort between FSU's Center For Advanced Power Systems (CAPS) and Eaton's Research Labs engineers specializing in medium-voltage power electronics. CAPS itself focuses on basic and applied research in advanced transportation power systems - including control, performance and energy distribution.
The paper's authors were James Langston, Karl Schoder, Michael Sloderbeck and Michael Steurer from CAPS and Andrew Rockhill, principal engineer at Eaton. Commenting on the award win, Rockhill said: "Collaborating with the team at CAPS was a brilliant experience and we're all thrilled to be recognized for our work.
As the navy moves towards more electric ships, it's fantastic to have the opportunity to push forward thinking at the cutting-edge of MVDC power distribution and protection. We overcame unique testing challenges to show the viability of MVDC SSCBs in meeting the navy's demanding requirements."
Rapid fault detection and isolation is essential for the next-generation of naval vessels using multi-megawatt, high performance, pulsed power loads. SSCBs are a key technology in meeting this challenge, since they lower the time to detect and clear short circuits—better safeguarding other equipment and shortening fault interruption times. SSCBs also enhance shipboard power system resilience and reduce the fault-ride-through requirements of critical shipboard loads.
However, as MVDC shipboard power systems aren't yet accessible as a test platform and prototype SSCBs may only be available in limited numbers, conducting full system tests presents a major challenge. The team addressed this issue by combining an array of tests to add different pieces of the puzzle, including Off-line and CHIL simulations, design verification tests, and coordination tests in hardware.
While none of these tests could individually verify the overall feasibility of MVDC SSCBs in a system, in combination they create substantial confidence that the devices are viable.
The team's research focused on testing SSCBs for 1kV DC systems with clearing times less than 1ms, but the approach developed can be extended to higher voltages in the future.
The navy's transition to hybrid and all-electric vessels may be as dramatic as the historical leap from sail to steam - and there are tremendous industry opportunities on the horizon. As this award-winning collaboration with CAPS shows, we have the breadth of expertise, global reach and resources to accelerate naval power innovation.
Our work may even help advance the transition to all-electric vessels in the wider maritime market, which is currently under pressure to reduce carbon emissions as worldwide trade grows.
Covering a broad range of current challenges, the annual IECON event brings together industry experts, researchers and academics to share their thinking about frontier technologies, recent breakthroughs and innovative solutions or applications.
The Best Conference Paper Award was established in 2006 to recognize the best research presented at major international IES conferences, but it's only conferred when there's a deserving candidate in any given year.
www.eaton.com