www.magazine-industry-usa.com
Written on Modified on
The new MRD-310 and MRD-330 are robust 3G routers designed for remote access across mobile networks. They provide a very high level of connectivity, and support many mobile standards including GSM, GPRS, 3G UMTS, HSDPA and HSUPA allowing uplink transfer rates of up to 2Mbit/s. Together with the rugged enclosure, DIN-rail mounting and an operating voltage range spanning from 10 VDC to 60 VDC, they are designed for industrial applications in harsh environments. Typical on board (train, trucks, etc.) or ground applications include video surveillance, SCADA/DNP3 telemetry systems and remote access to machines and devices.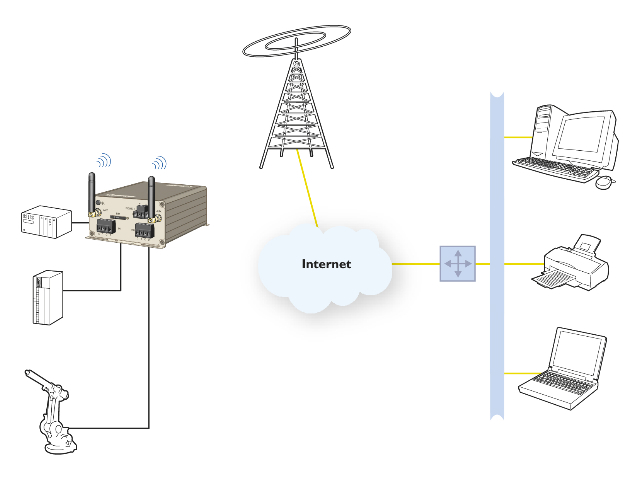 The MRD-310 and MRD-330 support a wide variety of wireless standards - GSM, GPRS, 3G UMTS, HSDPA, and HSUPA - thus providing connectivity in as many applications as possible. For instance, for on board application (train, truck, buses, off the road vehicles, etc.) they will automatically use the most efficient network available according to the geographical area. Using High Speed Uplink Packet Access (HSUPA), the uplink capacity is 2 Mbit/s, together with the 7.2 Mbit/s downlink data making the unit suitable for even high data rate applications.
MRD-310 and MRD-330 also distinguish themselves with a very high level of connectivity. They both provide built-in two port 10/100 Ethernet switches and an RS-232 and thus easily allows devices to seamlessly connect over a vast geographical distance. The MRD-330 features two extra RS-232 ports which will allow up to a total of three RS-232 devices to be directly connected to the network. Also included in the MRD-330 unit are two Digital I/O port pairs, 2 x Digital Input, 2 x Digital Output, for controlling many kinds of I/O devices.
To extend the life of legacy equipment there are a number of tools included in the MRD-310 and MRD-330 that will ensure connectivity with PLCs and other RS-232-based devices. The unit supports both packet and circuit switched mode, Serial to IP conversion, Modbus Gateway, DNP3 Level 1 Outstation and Dial-Up modem emulation.
Both the MRD-310 and MRD-330 provide Virtual Private Network (VPN) functionalities. VPNs create secure tunnels over insecure networks, such as the Internet. With the straightforward on-board web interface, setting up a VPN tunnel running between sites is easy. The unit supports IPSec, SSL, PPTP and L2TP encryption and certificate management to secure the tunnel.
Contact:

WESTERMO TELEINDUSTRI AB
S-64040 Stora Sundby, Sweden
www.westermo.com
Daniel ROOTH
This email address is being protected from spambots. You need JavaScript enabled to view it.