www.magazine-industry-usa.com
Written on Modified on
Engraving technology specialist Gravograph now offers a new Braille option, available for most of its machines. The kit is based on an ergonomic interface that integrates the transcription codes from more than 80 countries using a patented system – which inserts balls into cavities to create a raised surface. Machines already in service can be easily upgraded. Several hundred units of the Braille Dispenser kit have already been sold around the world in the last few months.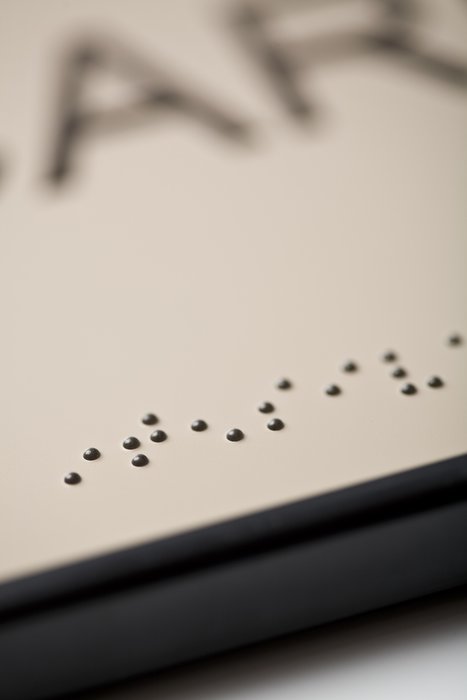 Over the past two to three years, a number of disability laws have been adopted in Europe. They require public places (stations, hospitals, hotels, universities, councils, etc) to have the means of communication for the blind, hence the need for identifying signage in Braille.
Most new buildings have to meet this requirement, while existing buildings have until 2015 to conform – depending on the country. From its accumulated experience in control software and high precision positioning systems for tooling machines, Gravograph developed a Braille kit that can be adapted to the models of its flagship range.
While products currently on the market offer a plain TrueType font conversion, Gravograph has specifically developed the Gravostyle 5 Braille interface. This latest development has the particular ability to retranscribe every existing Braille symbol, and thus the whole of the message, as well as understanding parentheses and all the help symbols used by the blind (for example, Roman numerals). Particularly ergonomic and intuitive, the software integrates the transcribing codes of 80 countries. The parameters of the Braille characters (spacing, height, size etc) can differ from one country to another. Another version of Gravostyle 5 Braille that will integrate Asian and Arabic characters is currently in development.
In relation to the engraving technology, the Gravograph teams have developed a patented system of drilling and inserting the balls into the support. Whatever type of material is used – metallic or acrylic – the system will insert the balls into the sockets under pressure. To do this, a ball bearing distributor is fixed on the head of the machine. A range of specific GRAVOTAC products, to create 3D letters and logos, particularly used for the blind, are also available.
In the case of recent machines, a simple kit suffices. A GRAVOGRAPH technician goes on site for one to two hours to install the software, make a calibration of the positioning system, and to mount the ball hopper.
Further information:
Gravograph
Jesus CERVANTES
This email address is being protected from spambots. You need JavaScript enabled to view it.