www.magazine-industry-usa.com
Written on Modified on
PiL Sensoren P48-30 ultrasonic barrier with an optimized connection solution
The sensor specialist PiL has optimized its economical, easy-to-install P48-30 series ultrasonic sensors and now offers a common Y-connector with M12 output for the transmitter and receiver.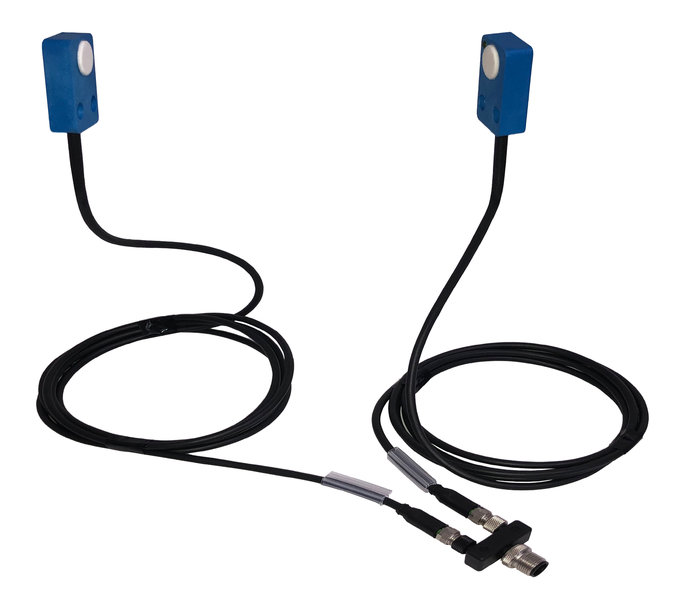 Optimized PiL ultrasonic barrier with new Y-connector for common M12 sensor connection of transmitter and receiver.

This allows the previously separate connections to be easily and practically connected to connect both sensor modules to the signal processing as one device using M12 sensor cables. The P48-30 model series is specified for non-contact detection of light, dark and transparent objects in a detection range up to 300mm. Its sound cone aperture of 15° ensures reliable object detection, which – unlike optical systems – is not affected by dust, smoke or refractive geometries.
Any interruption of the detection area triggers a switching signal with a maximum switching frequency of 150Hz. Due to its short response time of 1 ms, the P48-30 ultrasonic barrier is ideal for product or pack counting on conveyor belts even at high belt speeds. Its measurement sensitivity in the mm range also ensures the detection of very thin materials, for example, foil detection. The sensor modules, which are very compact with dimensions of 30x20x10mm and are manufactured in protection class IP67, can be used in a temperature range from -15°C to +60°C.The sensor modules can also be used in a wide range of applications. An LED integrated in the receiver unit is used for function display.
PiL offers comprehensive application know-how and responds flexibly to customer requirements at all times. And where application-specific parameterization is not sufficient, the manufacturer is also happy to support its customers on request with individually customized solutions. The development and manufacturing facilities of the specialist for industrial ultrasonic sensor technology are in Germany.
www.pil.de