www.magazine-industry-usa.com
Written on Modified on
ENERGY EFFICIENCY IN SMART FACTORIES: THE ROUTE TO LOWER RUNNING COSTS
The concept of the smart factory has been steadily evolving over the past few years as its moves towards the goal of providing harmonious communication between shop-floor devices and enterprise-wide management systems. Ultimately, the ambition is to ensure productivity and quality are maximised, from quotation and order, to manufacturing and dispatch. Such a transition also provides the perfect opportunity to address a sometimes overlooked aspect of smart factory operations: energy efficiency.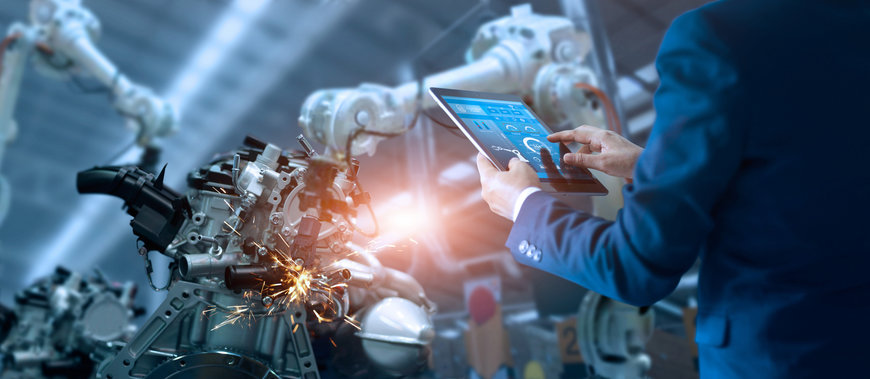 Advantech is using its solution to monitor and analyse factors such as energy consumption at the company's own facilities.
Author: Kip HANSON
In recent years, a swathe of innovative, future-oriented solutions have come to market offering real-time smart metering capabilities for electricity, gas and water. By leveraging capability of this nature, energy efficiency can be seen as a core component of Industry 4.0.
It is well documented that factories are among the world's biggest consumers of energy, however, the use of power is clearly vital in ensuring the continuity and quality of end-to-end production processes. With these thoughts in mind, it is critical to ensure energy efficiency at all times.
Most factories have a number of machines, systems and devices that consume energy, including machine tools, production lines, conveyors, motors, HVAC units, boilers, back-up generators and lighting, to list but a few. However, with the right smart technologies in place, plant managers no longer have to record samples of energy usage at pre-defined intervals, as is the case with traditional energy management systems. Although conventional systems help provide a snapshot of energy consumption, they do little to help curtail energy use, predict peak patterns or suggest what can be done to improve efficiency.
In contrast, smart monitoring means that analyses can take place in real-time, helping to optimise energy efficiency. Moreover, via the use of smart meters, it is possible to not only track energy use at its distribution point, but at various points of consumption throughout the smart factory.
Transparent energy flows and data are clearly key for exploring optimisation potential. If these flows are also integrated into cloud-based IoT systems, valuable knowledge can be generated and used to optimise entire factory and business operations.
Ultimately, adopting an ecosystem of intelligent and energy-efficient solutions for Industry 4.0 manufacturing delivers benefits that include energy management, remote connectivity and control solutions for smart factories. Sustainable solutions, such as the ones set out in this article, will facilitate more energy-efficient and productive manufacturing businesses, while simultaneously providing safer, more connected operations.
A case in point can be seen at the Maisach, Germany warehouse and distribution centre of Rexel, a leading electrical wholesaler that is taking advantage of the latest cloud-based energy monitoring solutions from Siemens to help drive anticipated annual savings in electricity costs of 25-30%.
"Increasingly distributed energy systems and renewable energy sources require new, intelligent solutions, and energy monitoring creates the basis for this," states Ricardo Radowski, Director of Business Development at Rexel Germany.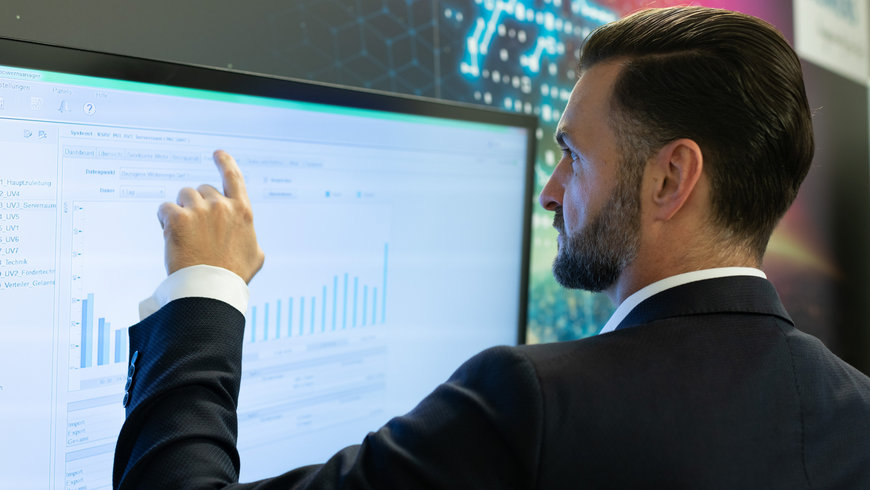 Ricardo Radowski, Director of Business Development at Rexel Germany now has an overview at all times of important energy data, analysed from the cloud
At Rexel's site in Maisach, electrical energy data such as voltage, current and power for infeed is now being recorded around the clock. Data from electrical outgoing feeders – as well as individual consumers down to machine level – is also being captured.
The power monitoring system from Siemens includes software and suitable measuring devices from the Sentron portfolio. In fact, more than 100 devices from the 7KM PAC series have been installed. Further to energy data, the devices provide precise status information on electrical power distribution, exact meter readings and better peak load management. The measured values can also be used to assess system status and network quality.
Using the MindConnect Nano interface, the energy data collected in Rexel's facility is transferred directly into MindSphere from Siemens, a cloud-based, open IoT operating system.
"We are now aware of where our energy is flowing," says Radowski. "For instance, it was a surprise that such a big proportion of our energy consumption could be attributed to lighting. Making this discovery means we will soon be replacing our conventional lighting system with a more intelligent alternative that consumes 80% less energy."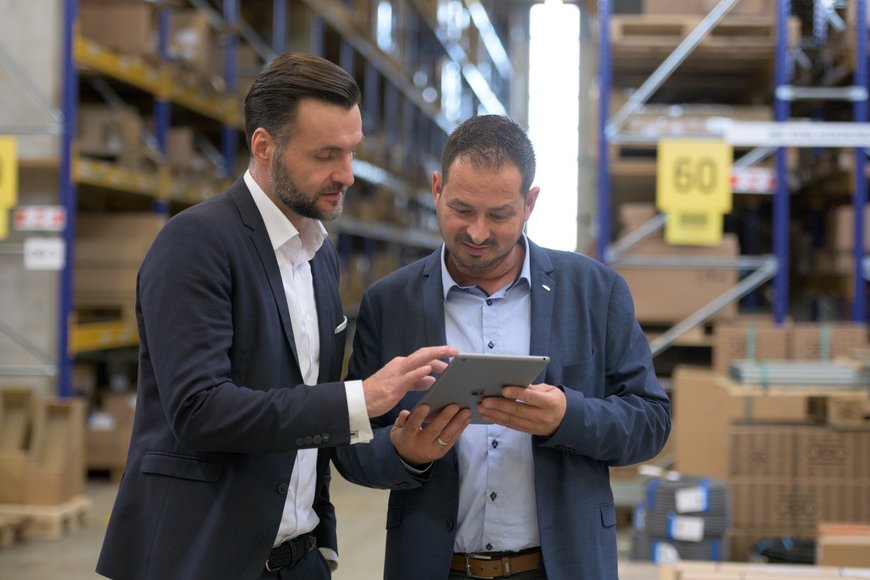 After data analysis the results are clearly displayed and can be shown on different devices – for maximum transparency in real time
Rexel has also installed the same solution at its distribution centre in Weisskirchen, Austria, so the option of cloud connection proved very attractive.
"We decided on cloud connection because of the cross-location opportunities and other possibilities that are available," states Radowski. "By way of example, it is now easy to benchmark energy efficiency between facilities and share information and best practices."
HOLISITIC MONITORING OF ENERGY EFFICIENCY
The story is similar a little further south, at the home of Slovenian smart factory, Salonit Anhovo. Thanks to the adoption of a solution based on LoRaWAN technology from Solvera Lynx, Salonit Anhovo has become one of the top 10% most energy-efficient cement factories in Europe.
In order to comply with European energy regulation and meet reduction targets for power consumption, Salonit Anhovo decided to carry out an energy management project.
"Our company wanted to understand, in detail, the energy flow through the factory, and we were looking for a system to handle energy consumption data automatically," says Magda Gabrijelcic, Energy Manager at Salonit Anhovo.
The project required a custom-made solution to optimise energy-intensive production processes: Salonit Anhovo uses over 90 GWh of electricity annually, more than 8 GWh of gas, and over 400,000 cubic metres of water. The cost of energy consumed by the company amounts to more than €6 million per year.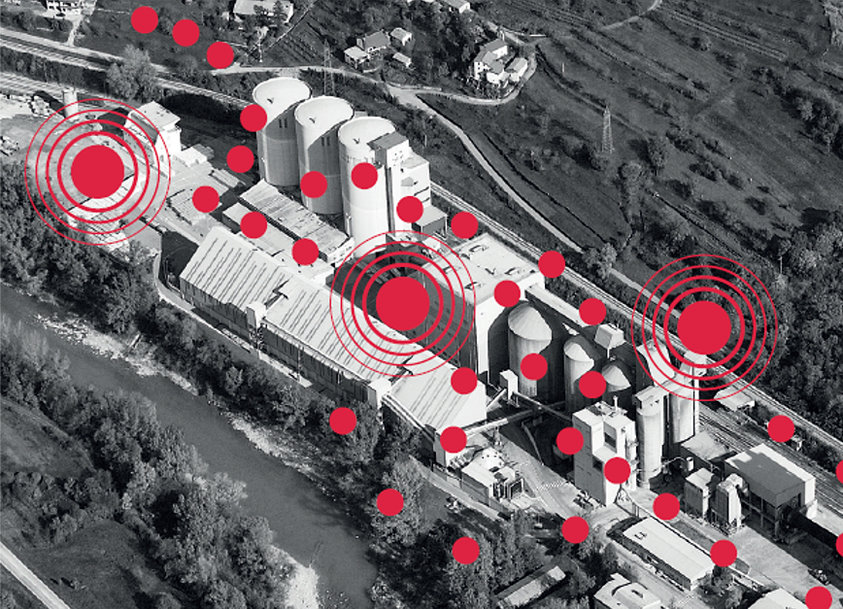 The Salonit Anhovo factory covers a site of more than 6 square kilometres
An inhospitable industrial environment with high moisture rate, extreme temperature conditions and far-spread production areas – spanning an area of more than 6 square kilometres – made the project even more challenging.
"Using LoraWAN devices from Solvera Lynx allowed us to focus on the energy-saving potential of the project, instead of hardware aspects such as cabling," confirms Gabrijelcic.
Data transmission is performed by ComBox.L communication equipment, which offers long battery life and suitability for harsh industrial environments. In total 36 ComBox-certified devices were installed, 11 of which are for gas metering, 10 are for water metering, five for compressed air, and 10 for electricity meters. The data is gathered and analysed by the GemaLogic software platform.
After using the LoRaWAN-based EMS for over a year, Salonit Anhovo has achieved real results and accomplished its primary project goals: holistic monitoring of energy efficiency performance and the reduction of energy consumption.
"After 16 months of good operations, we are highly satisfied with our choice," states Gabrijelcic. "ComBox.L CI devices with LoRaWAN and Gemalogic as the energy management system really work for us."
TANGIBLE RESULTS IN ENERGY USAGE REDUCTION
At Advantech, a complete, integrated hardware and software solution has been pioneered that enables factories to be turned into more profitable smart factories, quickly and efficiently. What's more, Advantech has successfully implemented the solution at its own facilities.
"Our unique co-creation model of partnering with SRP providers means that we can provide a complete [hardware and software] tailored solution for upgrading to Industry 4.0 almost off the shelf," explaines Advantech's Managing Director Jash Bansidhar. "We don't have to re-invent the wheel every time. Every aspect of the hardware and software has already been field tested and is mutually compatible, so implementation is very fast."
The company pioneered and perfected this Industry 4.0 upgrade solution in its own factories, where significant productivity improvements were achieved, along with reductions in energy costs, giving a very fast return on investment.
For instance, in Europe, Advantech has installed a service centre in Eindhoven, Netherlands, which is a great showcase for the potential of industrial automation and systems developed by the company. Warehouse management, real-time control and production systems are monitored through a digital dashboard, which has all the structure data under control in order to guarantee that the principal information is constantly analysed. In this way, Advantech shows customers and visitors how, in practice, it is able to obtain tangible results both in terms of productivity and energy efficiency.
---
ARTIFICIAL INTELLIGENCE SET TO IMPROVE ENERGY MANAGEMENT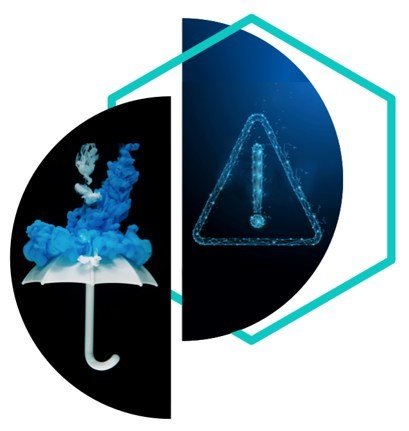 ABB and Verdigris Technologies have developed machine-learning algorithms to predict unplanned peaks in power consumption, and identify strategies for prevention. To explain further, ABB is deploying artificial intelligence (AI) to help factories and other industrial buildings improve their energy management and tackle rising tariffs for peak electricity. The company has added two AI-powered apps to the ABB Ability Electrical Distribution Control System (EDCS): Energy Forecasting and Intelligent Alerts.
The Energy Forecasting app enables users to reduce electricity bills by reducing peak demand charges, while the Intelligent Alerts app uses machine learning algorithms to help customers better manage their assets, identifying underlying issues before they become problems.
ABB Ability Energy Forecasting leverages the capabilities of AI to give facility managers accurate power consumption predictions. In short, Energy Forecasting enables management to take timely actions and reduce unplanned consumption spikes by rescheduling or switching off non-critical loads – and take full advantage of Time of Use (ToU) tariffs.
The Energy Forecasting AI uses neural network methods to identify and learn patterns in a circuit or a factory's energy consumption, while also considering weather data. Using weather forecasts and historical information, the Energy Forecasting app is then able to predict power consumption (kW) for the next 24 hours, updating its forecast every 15 minutes.
ABB Ability Intelligent Alerts uses machine learning to help customers better manage critical assets. The app learns how various factors affect the factory and key assets so that it can minimise the distraction of false alerts and information overload, allowing facility teams to focus their time more productively. Intelligent Alerts also identifies the relevant circuits and makes potential recommendations to ensure any response can be swift and decisive.
www.abb.com
---
DIGITAL SOLUTION FOR FACTORY ENERGY MANAGEMENT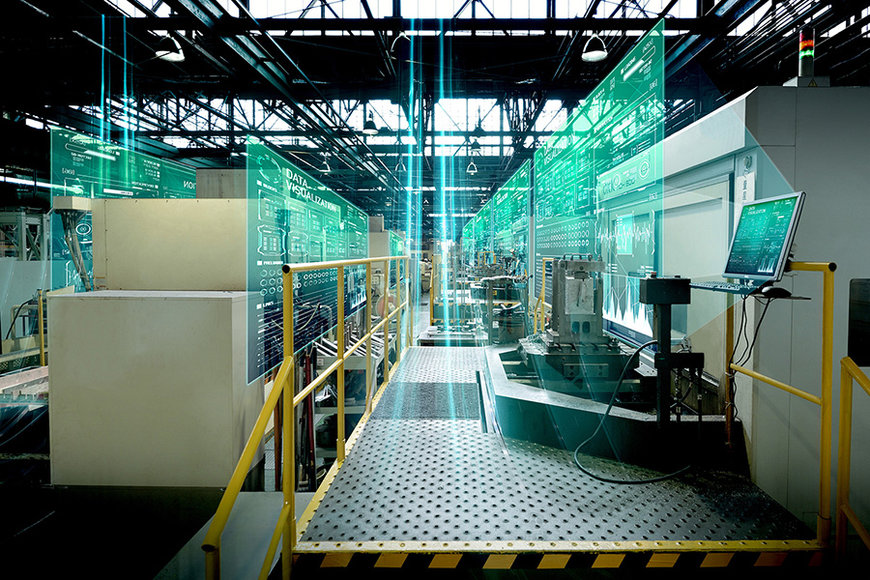 Mitsubishi Heavy Industries (MHI) recently launched ENERGY CLOUD Factory, a service package that utilises AI and IoT technologies. The solution is aimed specifically at factories within 'Energy Cloud', MHI's dedicated energy solution service.
Using data acquired by Netmation eFinder, MHI's independently developed system for collecting data on equipment operations, the system enables the visual monitoring of production equipment operating ratios and energy consumption. Moreover, a factory's overall performance can be evaluated in parameters known as ENERGY CLOUD Score, a newly devised KPI (key performance indicator) that integrates indexes used for measuring process productivity and energy consumption. Proprietary AI technology also enables the forecasting of future factory performance.

www.mhi.com
---
LOAD MONITORING SYSTEM WITH IO-LINK COMMUNICATIONS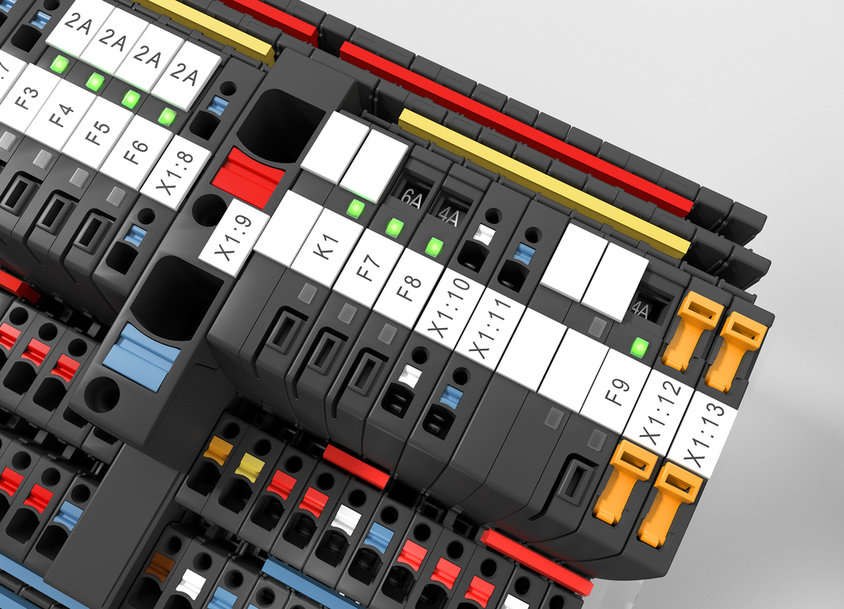 Weidmüller recently introduced its topGUARD load monitoring system with communication interface via IO-Link. The communication-compatible load monitoring system not only provides users with options for remote-controlled operation, but offers operating data for optimal condition monitoring, as well as reliable monitoring and protection of 24V system voltage. This intelligent networking between the machine, control cabinet and IT system makes it possible to create completely new control, monitoring and analysis solutions.
IO-Link is considered a key technology for the implementation of Industry 4.0 and IoT concepts. With regard to Weidmüller's topGUARD load monitoring system, which intelligently safeguards DC loads and communicates via IO-Link, users have the option of continuous communication from field level, right through to the cloud.
By connecting the IO-Link module and integrating an IODD file to carry out parameterisation and control, the user is provided with all relevant operating data.
www.weidmueller.com