www.magazine-industry-usa.com
Written on Modified on
Additive Manufacturing – Unlocking the Disruptive Potential
The growing popularity of 3D Printing or Additive Manufacturing bodes well for the sustainable future of Planet Earth.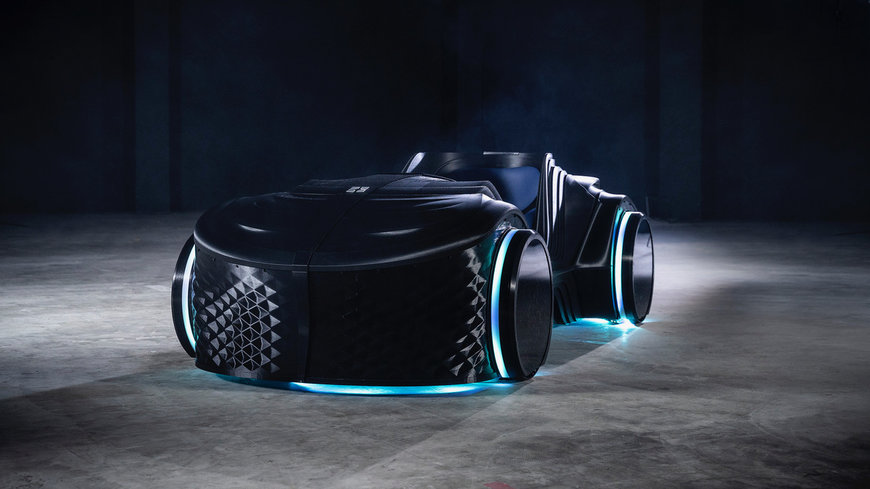 The BigRep LOCI Concept
3D printing or additive manufacturing has been described as one of the most disruptive technologies of the present age – the key to the future of manufacturing. Invented in the early 1980s, it has risen in popularity hugely in recent years thanks to the rapid evolution and convergence of several technologies in the digital era, making it easily accessible to professionals and hobbyists alike. Additive Manufacturing (AM) or 3D Printing, once the exclusive preserve of rapid prototyping, is now seen as the answer to produce products or parts anywhere, anytime. Unlike conventional or subtractive manufacturing, which makes use of processes like milling, cutting or grinding to remove material, AM involves adding of material, layer by layer, to form an object or a part, using a CAD software or 3D object scanner. There are many different processes, technologies and materials used in AM, the materials range from thermoplastics to metals, and ceramics to biochemicals, the latter often used in medical implants.
One of the main advantages of additive manufacturing is that it facilitates production of customised parts on demand at relatively affordable costs – the parts range from a lost wheel of a toy car to the tracked wheels of the Mars Rover. More importantly, the process also enables use of intricate designs with complex geometries that reduce weight while adding strength to difficult and/or expensive to manufacture parts made by traditional methods. The example of the fuel nozzle designed and 3D printed by GE for the LEAP jet engine is well known. Previously assembled from 20 components, this walnut-sized complex nozzle is now a one-piece marvel of engineering, thanks to 3D printing. It also weighs 25 percent less than its traditionally manufactured counterpart, is five times more durable and 30 percent more cost-efficient. As Janne Kyttanen, a 3D visionary and inventor of 3DTI – the first ever manufacturing technology which integrates 3D printing for mass customisation – maintains, the only limitation in applications of AM is creativity, or the lack of it.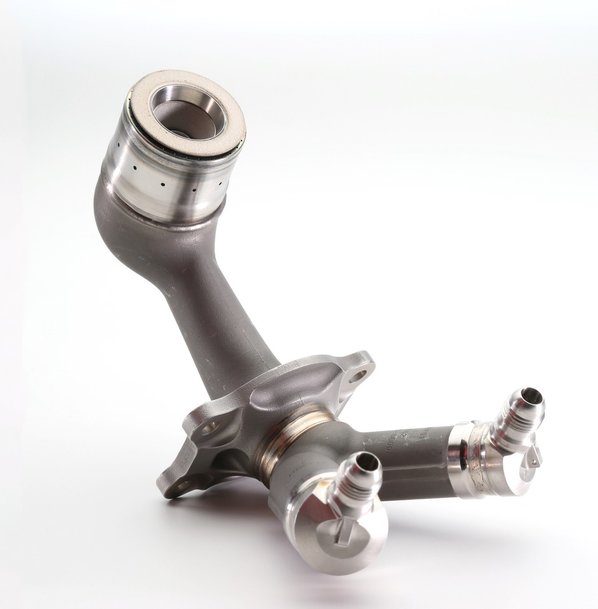 The fuel nozzle manufactured by GE for the LEAP jet engine
While the advantages are many, the AM process is not without its share of disadvantages, the foremost being the high cost both in terms of initial investments as well as operational expenses. The latter is thanks to the high cost of materials, which in most cases are supplied by the hardware manufacturers, and tied up with OEM agreements. This also rules out mass manufacturing, especially of large parts, as the economics here is clearly in favour of conventional manufacturing processes. However, for special requirements, AM works to great advantage regardless of size and volumes. The example of a seat bracket – a standard auto part that secures seat-belt fasteners to seats and seats to floors – manufactured at General Motors using Autodesk's generative design software, illustrates this vividly. What was a boxy part consisting of eight pieces welded together, is now a sleek looking anchor, 3D printed in stainless steel. The substitute is not only 40 percent lighter, but also 20 percent stronger, and cheaper to produce as it reduces the number of vendors and the welding job. Little surprise then that every automobile manufacturer today has invested in AM facilities in quest of optimising vehicle design to save on costs. An average car has about 30,000 parts. While all these cannot be manufactured by 3D printing, there are several which can be thus identified, like the seat bracket in the example mentioned above, benefitting from the technology as it evolves.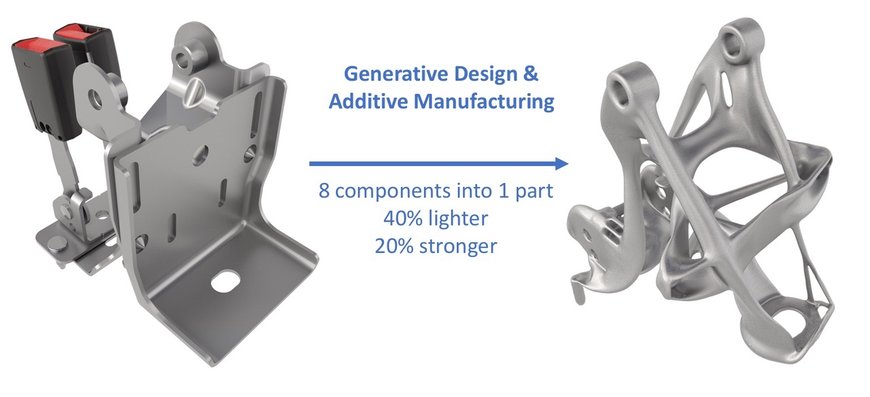 The seat bracket manufactured by General Motors
Innovations at Formnext
At Formnext 2019 (Frankfurt, November 2019), Europe's largest trade fair for Additive Manufacturing and the next generation of intelligent manufacturing solutions, leading companies such as 3D Systems, Addup, BigRep, DMG Mori, EOS, Formlabs, GE Additive, HP, Markforged, Renishaw, Siemens, Stratasys, Voxeljet and many others presented several new and more efficient manufacturing technologies and advanced solutions for industrial use – software, hardware, materials and services – besides making a plethora of announcements of tech tie-ups and alliances.
GE Additive, part of GE and world leader and pioneer in additive technology, unveiled a slew of products including the Arcam EBM Spectra L, a metal 3D printer that meets increased demand, especially from the aerospace industry. This new model offers larger build volume and faster speed, coupled with an integrated system architecture, machine health analytics and automation features. The Spectra L has been developed to increase productivity and reduce cost per part by 10%, thanks to almost double the build volume of the Arcam EBM Spectra H. The 4.5 kW beam power increases build speed by 20%, compared to the Arcam EBM Q20plus. The company also launched the Concept Laser M2 Series 5 metal printer, which meets the high expectations for part quality and consistency from customers, especially in the highly regulated aerospace and medical industries, which, together with automotive, are among the three leading users of AM technologies.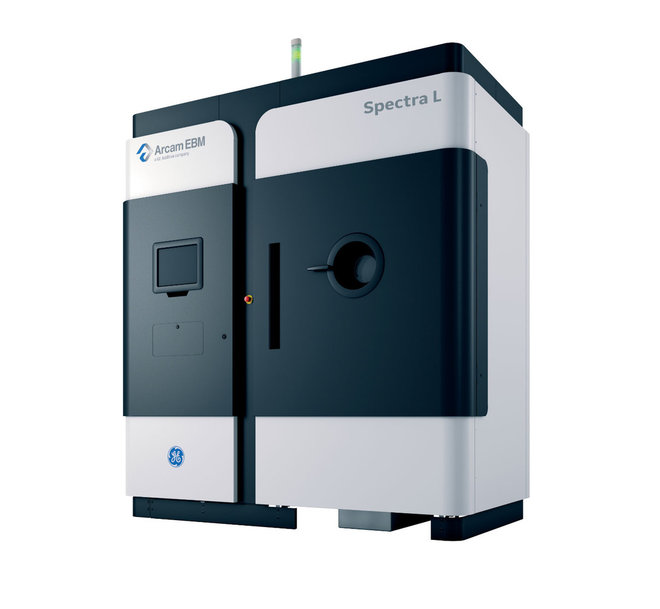 GE Additive's Arcam EBM Spectra L
BigRep, the company which develops the world's largest serial production 3D printers, unveiled a fully 3D printed, autonomous electric podcar concept, the LOCI. The LOCI prototype is specifically designed as a 'last mile transportation solution' in urban environment, for use at airports and train stations, daily work commutes, and as campus transport or for local deliveries. Developed using parametric modelling, LOCI utilises the full potential of AM and its limitless flexibility. The podcar's design can be easily customised for a given location or application; adjusting handling purpose, materials, structural properties, special tyres for different terrains, custom branding, and integrated solar power. At Formnext, the company showcased three different LOCI iterations: The Berlin LOCI model presented as a single-person campus commuter; the San Francisco LOCI with narrow body for urban commuting; and the Dubai LOCI for airport transportation with a high-end luxury feel, solar panels, space for luggage, and rugged tyres for desert weather.
Another BigRep launch at Formnext was the NEXT AGV, an autonomous guided vehicle developed jointly with Bosch Rexroth for use on the shop floor of the smart factory. Integral to agile, smart production, the 3D printed NEXT AGV is powered by an inductive energy unit feeding off the grid, and can serve as an automated logistics carrier with a load capacity of up to 250 kg. Tools and additional devices such as robots can be mounted onto the platform. Special 3D printed wheels with two different materials allow the platform to perform sideways movements.
3D Systems, the company co-founded in 1983 by Chuck Hull, the inventor of 3D printing, demonstrated at Formnext 2019 four production solutions designed specifically for the Healthcare, Aerospace, and Automotive industries. The company is in a unique position to offer solutions specific to customer needs through hardware, software, materials and professional services, integrating additive into traditional production environments. Through a strategic partnership with GF Machining Solutions, 3D Systems combines its innovation and expertise in additive manufacturing with GF Machining Solutions' leadership in precision machining. This enables manufacturers to seamlessly combine additive and subtractive technologies to more efficiently produce complex metal parts within tight tolerances, and reduce total cost of operation. One of the solutions demonstrated at the joint booth was the production process to create an aerospace bracket in seven steps that integrate additive technologies, traditional metal technologies and innovative software solutions to achieve high-quality, repeatable parts at an optimised cost per part.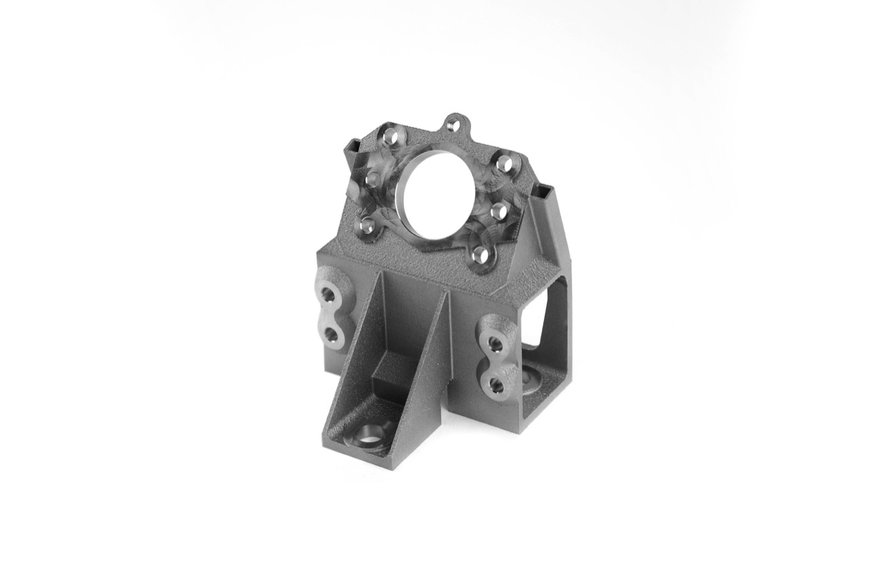 The hybrid aerospace bracket developed by 3D Systems
EOS, the world's leading technology supplier in the field of industrial 3D printing of metals and polymers, showcased its Fine Detail Resolution (FDR) technology for processing polymers for the first time. EOS is the first manufacturer to develop a solution for powder-based industrial 3D printing using a CO laser. This makes it possible to produce extremely delicate yet robust parts with fine detail resolution surfaces and minimum wall thicknesses of only 0.22 mm. It will open up new applications for series production and will offer an even broader variety to the industry when it comes to choosing the right 3D printing technology from EOS for processing polymers. The FDR technology combines the best of two worlds – the detailed resolution of stereo lithography (SLA) with the durability and quality of selective laser sintering (SLS). Presented for the first time at Formnext, it opens up options for completely new applications in the field of polymer-based additive manufacturing, such as for filter units and fluid channels, plugs, and other electronic components as well as consumer goods such as eyeglasses.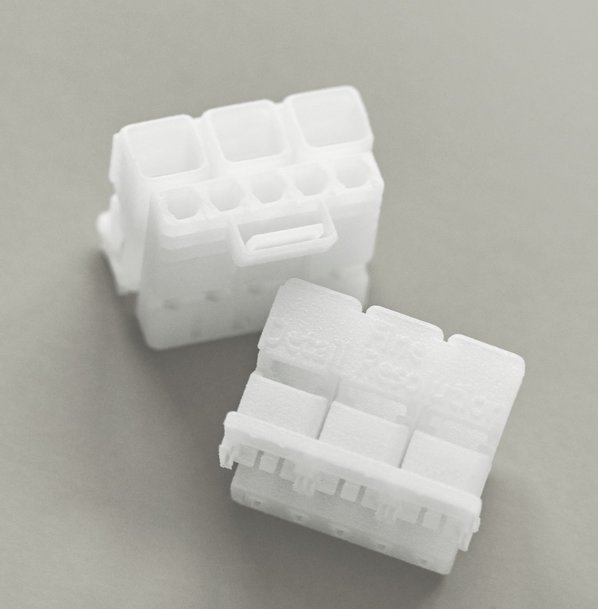 The new HSE 180•S HT from Essentium
Essentium, Inc., announced the expansion of its AM platform with the introduction of high-temperature (HT) materials and new models of its award winning Essentium High Speed Extrusion (HSE) Printing Platform. The nozzle temperature of the new HSE 180•S HT reaches 550°C and uses a wide variety of materials to produce parts that can withstand temperatures of 180°C. In bringing high-temperature AM capabilities to market without compromising speed, strength, scale or economics, Essentium has accelerated the potential of industrial-scale AM, and delivered on its commitment to create a global, open ecosystem that puts customers in control of their innovation. The company also introduced four new materials including PEEK, High-Temperature Nylon (HTN), HTN-CF25 and HTN-Z (ESD safe) designed to deliver high heat, chemical and fatigue resistance and high strength for industrial applications. In addition to introducing the high-temperature HSE 3D printing platform, Essentium announced it will seamlessly integrate Materialise 3D printing Magics Essentials software with the Essentium HSE 3D printer. The integration between software and printer delivers an open and complete FFF suite comprising an end-to-end workflow with all features needed for industrial scale 3D manufacturing to transform factory floors.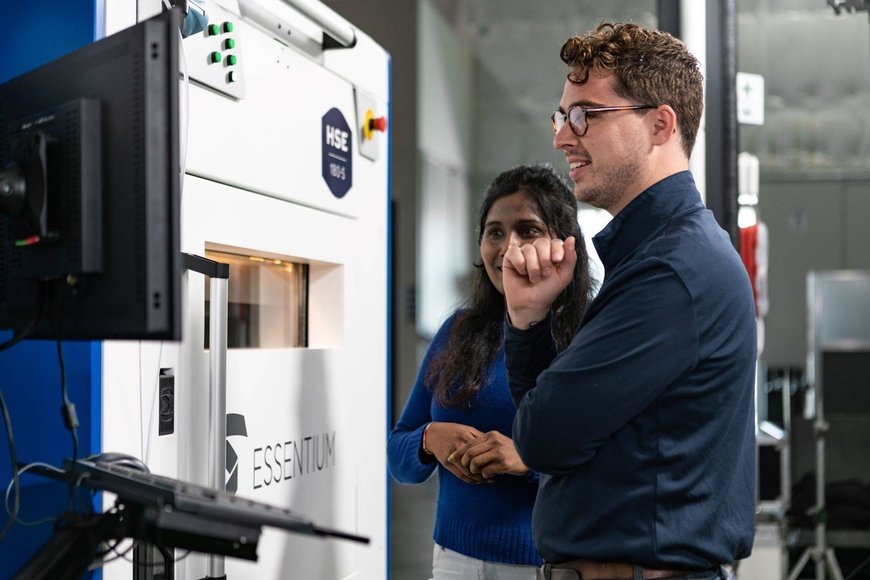 The new HSE 180•S HT from Essentium
Another major player, Renishaw, launched InfiniAM Sonic acoustic process monitoring software to complement its InfiniAM suite of AM monitoring tools. InfiniAM Sonic enables engineers to detect acoustic events within the AM build chamber and turn this data into useful information about build quality. The software is the first of its kind in the AM industry. The InfiniAM Sonic package is installed into the RenAM 500Q system as a factory fit option and includes four acoustic energy sensors to detect vibration in the build. The RenAM 500Q system is fitted with four high power 500W lasers to achieve build rates of up to four times faster than conventional single laser systems. Maximum efficiency is achieved on the RenAM 500Q because the lasers can work across the entire build plate, allowing the laser interaction to be managed effectively to ensure quality is unaffected by multi-laser interaction when processing. Renishaw is also collaborating with Sandvik Additive Manufacturing to qualify new AM materials for production applications. This encompasses a broad range of metal powders, including new alloy compositions that are optimised for the laser powder bed fusion (LPBF) process and which provide superior material properties.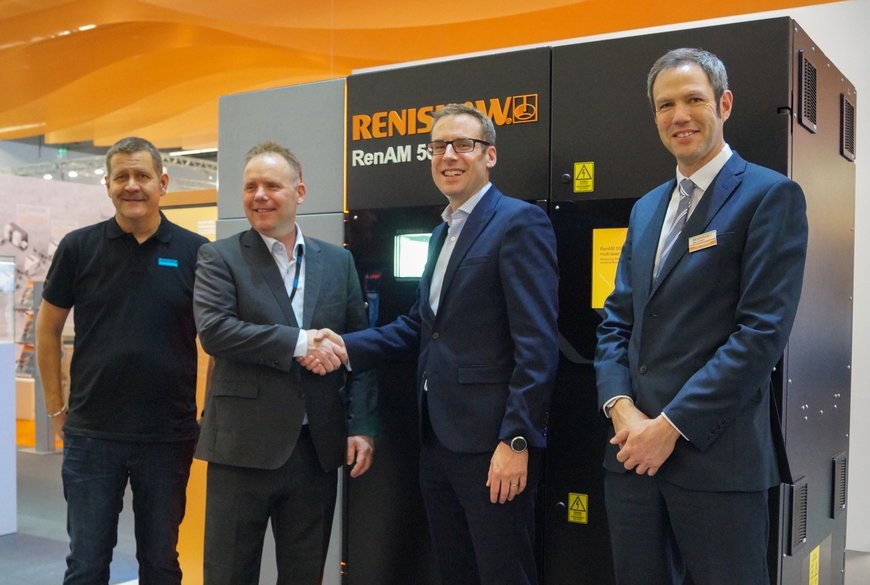 The Renishaw Team at Formnext 2019
If 3D printing can replicate an object by just scanning and printing, it also opens a security threat. A key can be easily photographed or scanned and a duplicate printed anywhere. The event on technology that holds the key to the future of manufacturing came to an end with an award for a key – not an ordinary key, but the 3D printed 'Stealth Key', designed and manufactured by UrbanAlps AG, a Swiss manufacturer - the winner of the first prize of the purmundus challenge at Formnext 2019. Using stealth technology, UrbanAlps has created a physical key and cylinder system in which the code is neatly hidden under robust, narrow projections. As the purely mechanical key cannot be scanned, it offers maximum security and works independently of digital systems – neutralising the threat, effectively using the same technology.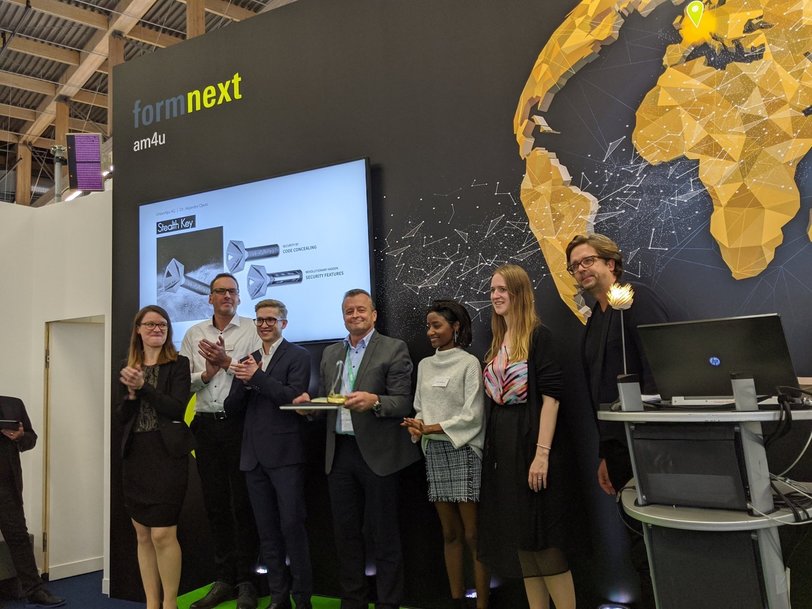 The Stealth Key was awarded the first prize of the purmundus challenge
These are just a handful of examples from among the 852 exhibitors (632 in 2018) participating at Formnext 2019, representing the entire additive value chain. The event attracted over 34,000 visitors from 99 nations. The AM community is growing globally.
The way forward
Rising concerns over environmental degradation and climate change has finally caught the attention of governments and policy makers, as well as industries worldwide. Sustainability is the new mantra, carbon neutrality the new goal as more than 60 countries are aiming to reduce carbon emissions to net-zero by 2050, according to the United Nations. In mid-2019, Bosch – the global supplier of technology and services – declared that the company would become carbon neutral in 2020. Many corporates are in the process of implementing their own schedules to achieve the same.
As the world moves towards sustainability, 3D printing will have an important role to play, especially in all spheres of mobility. Lightweighting – reducing the weight of all forms of transport on land, air and sea – is the top priority for OEMs. Generative design software is the enabling technology that makes this possible. When General Motors redesigned the seat bracket using Autodesk's generative design technology in Fusion 360, the software came up with more than 150 alternative designs from which the most optimal design was chosen. Autodesk and BMW are working on using generative design technologies and additive manufacturing methods for creating a new kind of vehicle that can be lighter, faster, cheaper, reliable and easier to produce.
The combination of generative design and additive manufacturing has wide applications beyond mobility. The technology has great potential in many other fields where materials are used – architecture and construction, buildings and plants, industrial machinery and consumer goods – with productivity gains and energy savings, helping reduce the carbon footprint. Speaking of materials, 3D printing has also made rapid inroads into the food domain, especially the confectionery segment, enabling intricate and attractive designs in cakes and chocolates.
With rapid evolution and rising affordability as the hardware and consumables become cheaper, 3D printing or additive manufacturing will grow in popularity in years to come. From the humble footwear to the mighty spacecraft, the technology is rapidly revolutionising the way these are designed and manufactured, offering the key to a sustainable future.
Author: Steed WEBZELL