www.magazine-industry-usa.com
Written on Modified on
Pneumatic technology is an old and well-known friend of industrial automation systems. Simple and accessible, pneumatics delivers several benefits, largely due to the characteristics of its power source: compressed air. Safety, reduced operational costs, ease of implementation and cost-effectiveness are among the main reasons why many European plants continue to favor pneumatic automation.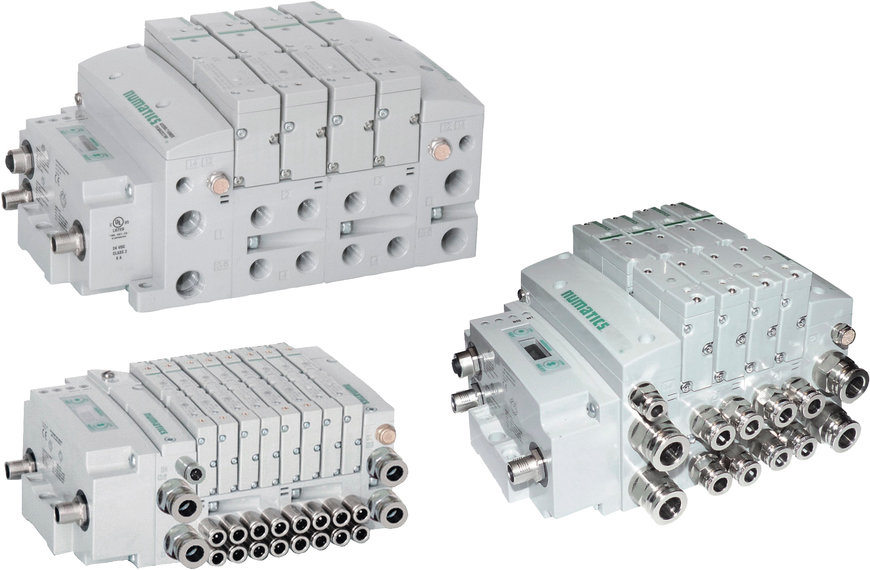 This school of thought is confirmed by Leonardo Brand, Engineering Supervisor at
ASCO-EMERSON
, who says: "Pneumatics has become an extremely attractive tool to most companies due to its versatility and cost. Of course, processes in the automotive and mass production/handling sectors traditionally use pneumatics as their primary choice. However, nowadays pneumatics is commonplace in many other industries, including mining, metallurgy, chemical and petrochemical, and pulp and paper."
Brand mentions that, in pneumatic automation, his company's focus is the process market: "Our know-how in this area – which comprises industries such as chemical, mining, pulp and paper, medical and analytical, power generation, and oil refining – makes us capable of presenting differentiated and exclusive pneumatic automation proposals."
According to Brand, among the leading segments is mining, particularly with regard to wastewater recovery, treatment and control processes. Here, the use of pneumatic solutions such as cylinders, directional control valves and air-quality preparation sets is widespread.
Another major focus area is tire manufacturing, especially control systems for autoclaves, where common pneumatic solutions include smart valve terminals and electronic pressure-control valves.
The chemical sector is a further example. Pneumatic solutions such as smart valves terminals and air-quality preparation sets are frequently deployed in the fluid-control systems found at chemical plants.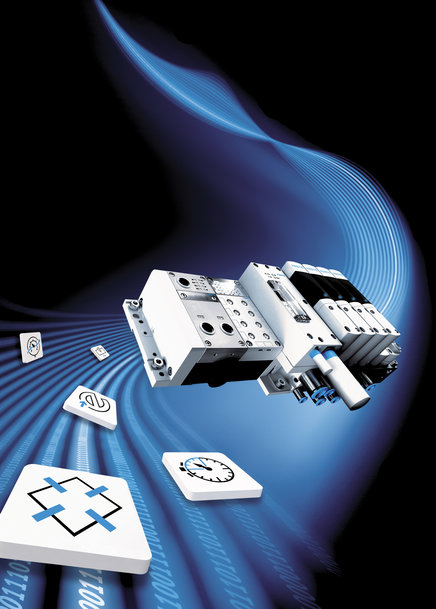 Osvaldo Tomio Sato, Product Manager at
FESTO
, points out that, being a simple force and movement control system, pneumatics may be applied to numerous industrial segments: "Applications are wide-ranging and include the movement of a unit in a packing conveyor, placing workpieces in machine tools, transporting parts in the automotive industry, holding devices in the electro-electronic sector, opening and closing dispensers in the pharmaceutical industry, opening and closing doors on buses and trains, and devices for the selection of grains in the food sector."
Sato says that his company is working across several markets in order to advance the use of pneumatic automation: "By way of example, niches in the food segment include meat and refrigeration, confectionary, chocolate, and dairy products. The main reason for this versatility is that pneumatic automation may be easily implemented in applications such as product transportation, handling, packing and inspection. In addition, this technology can help to increase productivity and hygiene levels. The pneumatic automation components deployed are classified as 'clean design' or products made of materials compliant with FDA [Food and Drug Administration] standards, such as pipes, fittings, actuators and valve terminals."
PNEUMATICS AND INDUSTRY 4.0
Flexibility, easy design development and cost are the main advantages of pneumatic automation, according to Brand.  "There are, however, processes where installing an efficient pneumatic system, with air reservoirs and distribution and access points, is difficult, because this is not part of the plant's original design," he states. "In such cases, using an electric solution is preferable to the creation of ideal conditions for pneumatics."
Brand adds that, on the other hand, in cases where the plant design already includes a pneumatic distribution system, handling, positioning and serial production applications should not be replaced by electrical equipment which, according to him, is three to four times more expensive than pneumatic systems performing the same function.
"Another characteristic of pneumatics is its ability to work in industrial environments without requiring any kind of special protection," says Brand. "In contrast, electrical equipment for use in such areas will always require some kind of special protection. Factors such as moisture, vibration, heat and electromagnetic interference do not impact on pneumatic equipment."
So, is pneumatic automation actually fully integrated to modern industrial processes? According to Brand, the answer is affirmative. "Over the past 15 years, pneumatics has proven a reliable partner for fieldbus, onboard control, data collection and diagnostic functions," he says. "Together with other types of technology, the pneumatic technology of today offers the capability for migration to Industry 4.0. For instance, modern smart valve terminals with IO-Link communication are now part of our industrial reality."
According to Sato, pneumatic automation is simple: "Compressed air is one of mankind's oldest energy types, using atmospheric air as a source, which is present and abundantly available everywhere on Earth. Generating compressed air is easy, and its maintenance is straightforward. Furthermore, pneumatic automation provides safe and reliable operation, mainly due to its simplicity."
The application of pneumatic automation has consistently intended to replace human labor in repetitive tasks, thus increasing operational productivity while decreasing production cost. Overall, the idea has always been to allow employee engagement in more rewarding roles, such as preventive maintenance, programming, process improvement, and optimization of the final product to improve quality and reduce cost, making it competitive in European and global markets.
Sato reports that his company is continuously modernizing its pneumatic technology product line, and that one of FESTO's most recent developments is the VTEM (Motion Terminal). "The Motion Terminal uses the 'digitalized pneumatic' concept, fusing basic pneumatics and electronics, plus a powerful software controller, in order to create a highly innovative product capable of covering the functions of over 50 individual components," he explains.
"Motion Terminal can be called outstanding thanks to its ability to provide a wide range of functions with just one valve, remotely controlled by 'Motion Apps', whose parameters may be altered in real time," continues Sato. "The product provides, in a single platform, the aspects necessary to meet the requirements of Industry 4.0, such as flexibility, energy efficiency and monitoring, making it an ideal choice for industry's automation future. Motion Terminal's digital pneumatics improve automation processes, with benefits extending from faster planning and design phases, to easier commissioning and parameterization. Additionally, operational productivity is enhanced by providing a faster and easier means to convert or modernize a system."
In summary, pneumatic automation is already well established in the market and vendors are complying with the demands of IIoT and Industry 4.0. The technology tends to be favored due to its simplicity and unlimited applications.
---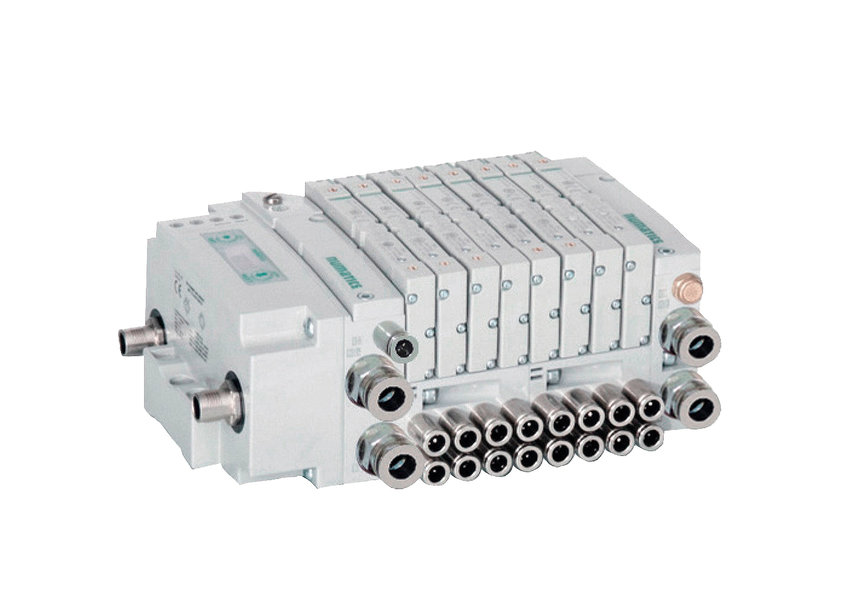 IO-LINK TECHNOLOGY AVAILABLE FOR 580 SERIES ELECTRONIC COMPONENTS

ASCO-EMERSON has introduced IO-Link communication for its 580 series electronic components. This technology is compatible with 501, 502 and 503 series valve islands.

The IO-Link (CEI 61131-9) standard is intended to provide an easy and intelligent connection from inputs/outputs (sensors/actuators) to a controller by means of cost-effective, standard non-shielded cables. Additionally, IO-Link enables the recovery of diagnostic and configuration parameters.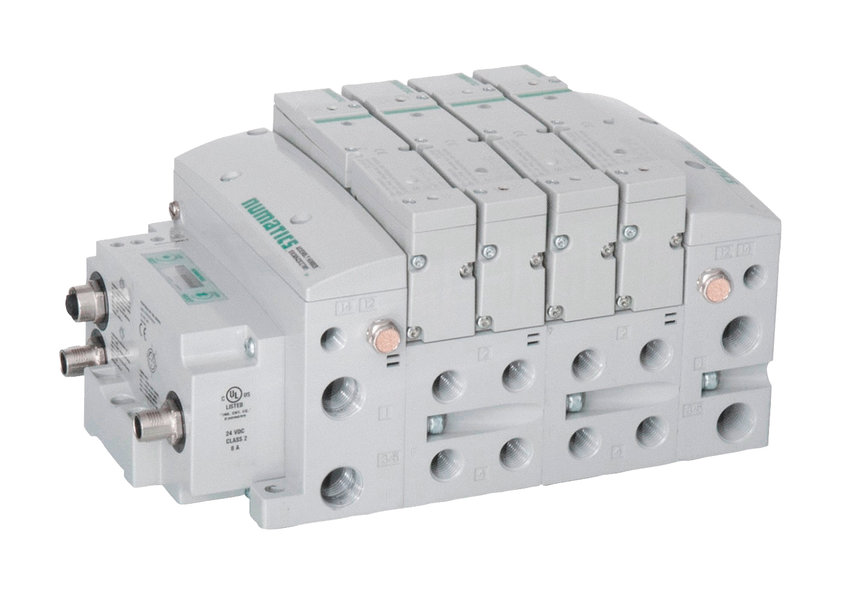 Main benefits
Principal advantages include compliance with international standard CEI 61131-9, assuring inter-device communication (interoperability). Productivity is also improved since IO-Link provides digital data communication from field devices to a controller.
A further benefit is the need for less maintenance time as IO-Link devices are automatically identified and configured in case of replacement. Time is also saved since ASCO Numatics 580 IO-Link is capable of providing: mapped input/output diagnosis that is easy for programmers to use; event-based diagnostics using three fewer data words (and cloud processing of the data via a compatible master); a cost-effective solution in terms of materials, since it uses unshielded cables and industry standard connectors; and flexibility because the 580 IO-Link is compatible with the full 500 series (501, 502, 503). Upon request, ASCO-EMERSON can also supply 580 IO-Link electronics in the 2035 series.
ASCO-EMERSON's modular distributed topology offers the highest throughput for product size, as well as a wide range of configurations. Here, base plates allow the use of different sizes within the same island. Moreover, the use of base plates and accessories permits two pressure ratings to be deployed within the same island without requiring individual regulators.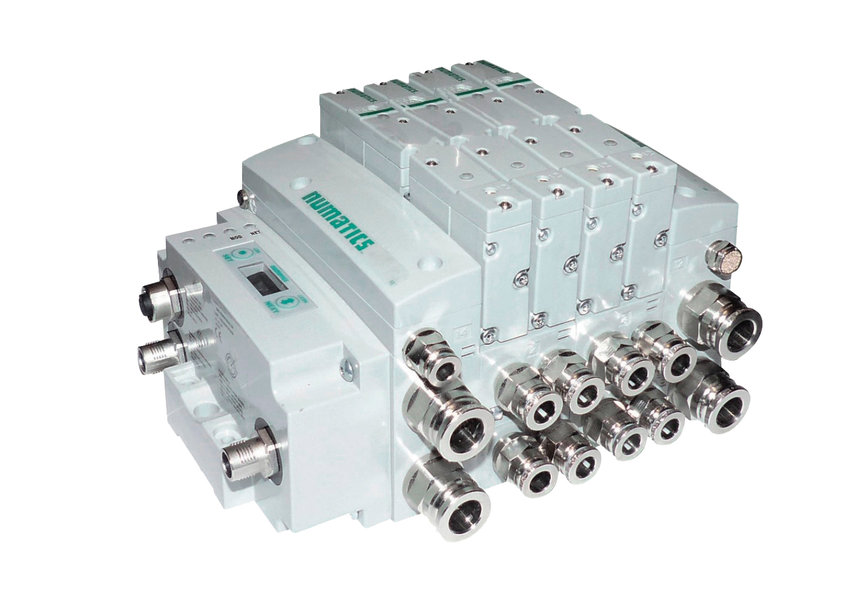 Industries and applications
The 580 Series IO-Link is perfectly suited to modular concepts and applications where sensors and pneumatic systems are very close to each other (cabling distance less than 20 meters).
Typical uses include conveyors, pneumatic robot hands, assembly machines, and filling equipment in food and cosmetics applications.
www.asco.com
---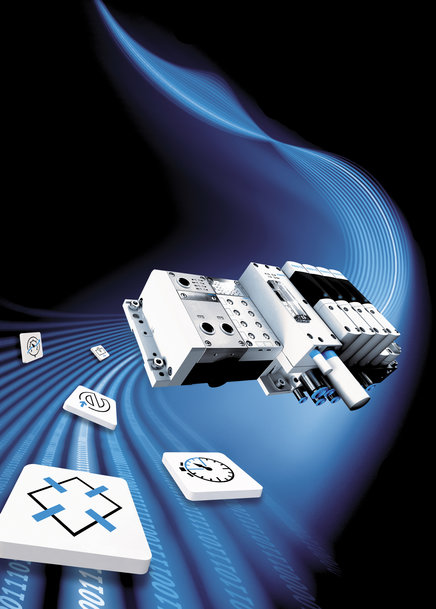 MOTION TERMINAL: FESTO INNOVATION THAT CAN REPLACE 50 COMPONENTS
Festo Motion Terminal points to the beginning of a new industrial age which, like the smartphone, will soon become a market revolution
Pneumatics is well-established technology that is ready to become even more direct, versatile and flexible with the new Festo Motion Terminal VTEM. The product is the beginning of a new Industry 4.0 phase – with apps that can replace more than 50 individual components. This outcome is possible due to developments in piezo technology and software.
Just as the smartphone transformed the mobile communication market, so the Festo Motion Terminal will revolutionize automation technology and industry as a whole.
The new strategy of function integration – combined with software apps – will simplify the entire value chain, since only one piece of hardware will be required.

True Industry 4.0
In Piezo technology, integrated stroke and pressure sensors, together with control via motion apps, will create new perspectives for machinery and plant manufacturers. The fusion of mechanics, electronics and software in the Festo Motion Terminal will transform a pneumatic product into a true Industry 4.0 component and enable flexible manufacturing.
Changes in pneumatic functions and adaptations to new formats are controlled via apps by changing parameters. In addition, integrated intelligent sensors for control, diagnostics and self-learning tasks will eliminate the need for additional components.
Apps
When the VTEM is launched, 10 functions will be available via motion apps: from basic modification of the directional control valve functions to energy-efficient motion, and from proportional behavior to different motion profiles. What makes this capability so special is that the same valve hardware is used for everything. Thanks to the fast activation of new functions via apps, machine developers can create a basic machine type and then select the relevant apps to equip it with different functions and features in line with customer requirements.
Assigning functions via software has the additional benefit of protecting against data tampering, since it is not possible to tell from the outside which functions the valves are executing. Maintenance is also simplified, as long lists of spare and wearing parts become a thing of the past.
Intrinsic energy efficiency
The specially developed motion apps, as well as the leakage diagnostic function, save energy during operation. However, the energy-saving piezo technology for the proportional valve's preliminary stage, also plays its part.
Air consumption can be flexibly adapted to needs using the 'Selectable pressure level' and 'ECO drive' apps. ECO drive reduces compressed-air consumption to the required minimum level, provided that no pressing or holding forces are needed in the end position. Depending on the application, this functionality enables savings of up to 70% compared with standard operations.
Lower costs and complexity
The Festo Motion Terminal permits both fast and powerful movements, as well as leakage diagnostics, at much lower costs than current set-ups. For example, fewer controllers are necessary in comparison with electric solutions, since one controller can perform up to eight movements using the VTEM. Energy consumption is also reduced, while the required installation space is decreased by up to 65%.
Comparing the technology, set-ups with the Festo Motion Terminal offer truly cost-effective alternatives for eight applications. Instead of a valve, a pressure regulator and a pressure sensor or, in other words, three components, only one is required – a valve.
For further information visit:
https://www.festo.com/vtem/pt/cms/motion-terminal.htm