www.magazine-industry-usa.com
Written on Modified on
How are SFP Modules used with Industrial Network Switches?
Article by Henry Martel, field application engineer, Antaira Technologies.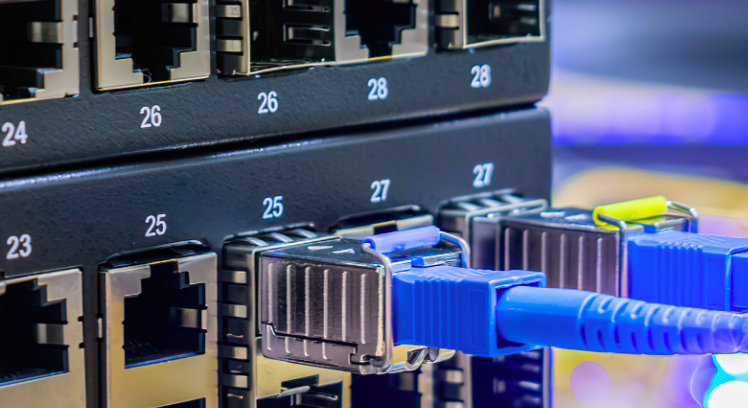 In reviewing today's industrial network switches, one of the features that stand out are built-in SFP slots accompanying the standard RJ45 ports. SFP is short for Small Form-factor Pluggable, and it's been an industry workhorse for nearly two decades.

As a standardized network interface, SFP technology enables switches with SFP module slots and ports to connect to network components, either optically or electrically, at distances up to 160km (99.4 miles). This is done by simply inserting the correct SFP module (transceiver) into the switch's SFP port which, in turn, is connected to either an Ethernet or fiber optic cable. Connecting an industrial switch, server, industrial router, network card, or PC to the other end of the cable establishes the high-speed data communications connection.

SFP ADVANTAGES
First introduced in 2001, SFP has basically replaced GBIC (Gigabit Interface Converter) since it is only half GBIC's size, allowing it to be used in very tight, dense spaces while providing faster, long-distance communication links between industrial switches, routers, and other networking devices and components. In modern networks, small form factors are a constant necessity.

Besides its size, another advantage is SFP's hot-swapability functionality module. This makes it easier for network administrators to build onto existing networks without the hassles of redesigning the entire copper cable infrastructure. Most SFPs also feature Digital Diagnostic Monitor (DDM/DOM) providing real-time monitoring of parameters such as voltage, temperature, power, and laser bias.

Yet another check in the plus column is that SFP allows users to link aggregate multiple SFP ports. By connecting a single fiber to multiple industrial switches, the result is more bandwidth, redundancy, and load balancing that ensures that if one link fails, it will immediately go on the secondary available link with higher speed and little to no packet loss. Just before you do, however, configure both industrial Ethernet switches for link aggregation, otherwise, you will cause a network loop.

HOW TO SELECT AN SFP TRANSCEIVER
Deploying SFP links on your network goes far beyond inserting a single fiber transceiver into the Ethernet switch port. To optimize network performance, you'll need to specify the right single-mode fiber transceiver type for your industrial switch application. Although there are many types of SFP modules on the market, the list can be narrowed down to five form factors: SFP, SFP+, SFP28, QSFP+, and QSFP28. But before we address those, let's look at some basic information you'll need to know before you buy.

Operating temperature: In a production environment you'll need a rugged transceiver with an industrial-grade temperature range (-40 to 85° C), not a commercial-grade one with a more limited range (0 to 70° C). If not, the transceiver may fail in extreme heat or cold, taking the signal and network connection with it.
Cable types: Match the transceiver to the two-mode fiber or cable you are planning to use, whether the fiber, copper cable, multimode fiber (MMF), or single, multi-mode fiber (SMF).
Port speed: This should be obvious but bears repeating. Always match the transmission speed of the transceiver to the port-supported speed. Transceiver speeds range from 100Mbps (SFP) all the way to 112Gbps (QSFP28).
Link distance: Choose a transceiver that supports the distance between the switch and interface of the device you want the switch to connect. Transceiver distances are broken down into: "T" for 100m on Cat5, "SX" for 550m on MMF, "LX" for 10km on SMF, "EX" for 40km on SFM, and "ZX" for 80km on SFM.
Compatibility: Some manufacturers participate in "vendor lock-in" practices that intentionally prevent third-party SFP transceiver modules from working in their devices. Multi-Source Agreement (MSA) standards have helped to create an open market for SFP transceiver modules.
TYPES OF SFP MODULES
Now let's look at the five SFP types we mentioned before. These categories may look overwhelming, and this is not even an exhaustive list. However, the good news is that plenty of options are available for you depending on your distance, environmental, and speed requirements.

1. SFP is widely used for 100BASE or 1000BASE applications running over copper or fiber. Depending on the module configuration, the SFP module data rates can range from 155Mbps to 4.25Gbps with a maximum distance of 160km over copper, fiber or SMF. SFP is based on the SFP MSA standard.

2. SFP+ modules are the identical size as an SFP module but sport 10G speed. While an SFP+ transceiver module is not compatible with a standard SFP port interface, an SFP+ port will accept an SFP module at reduced speeds. SFP+ can transmit data up to 120km over SMF, and is based on the IEE802.3ae, SFF-8431, and SFF-8432 standards.

3. QSDP+ is short for "Quad Small Form-factor Pluggable". QSFP+ has four independent channels of 10Gbps data lines in each direction to support 40Gbps speed. A single QSFP+ effectively replaces 4 standard SFP+ transceivers, resulting in improved port density and cost savings, but it has a shorter working distance, approximately 40km. QSFP+ is widely used in 40GBASE-X Ethernet, data center aggregation, and datacom switch and router connections. We should note that there are nine different types of QSFP+ transceivers currently available so it is important that you identify the one that suits your needs.

Standards for QSFP+ are IEEE 802.3ba, QSFP+ MSA, SFF-8436 and SFF-8636, InfiniBand, and 40G QDR. If you are not familiar with InfiniBand it is an open standard network interconnection technology with high bandwidth, low delay and high reliability. InfiniBand today is considered by many to be a niche alternative to Ethernet in distributed computing systems.

4. SFP28 is designed for 25G performance per the IEEE 802.3by standard and uses a single lane, rather than four, to support 25Gb/s. As the third generation of the SFP interconnect, SFP28 has the same form factor and appearance as SFP+, plus is mating compatible and backwards compatible to 10G. Besides increased bandwidth, SFP28 offers better impedance control and less crosstalk than its predecessor. Because of this, and its energy efficiency, SFP28 is a popular choice in data center networks upgrading from 10G.

5. QSFP28 supports fibre channel in 4 separate lanes like QSFP+, yet each single fiber per mode is 25 Gb/s (potentially up to 40 Gb/s) for use in 100G Ethernet networks, 32G Fiber Channel and EDR InfiniBand as interconnections between racks, switches, data centers, campus networks, or long-distance telecom. A QSFP28 module can break out fibre channel into 4x 25G or 4x 10G lanes, depending on the transceiver used, so while QSFP+ can be used on a QSFP28 port at a lower 40G speed, QSFP28 modules cannot be used on QSFP+ ports.

As a leader in industrial networking, Antaira eliminates much of the guesswork of utilizing SFP modules and transceivers to optimize your networks. Antaira's managed and unmanaged SFP module-enabled network switches, combined with its SFP modules and cables, give you a competitive edge while ensuring reliable performance in adverse industrial and environmental conditions. For instance, our XFP module line of 10G optical transceivers is fully compliant with 802.3ae standards, making them ideal for SONET OC-192, SDH STM-64, 10 Gbit/s Optical Transport Network (OTN) OTU-2, and parallel optics links.

Also, Antaira gives you the choice of 46 different SFP modules and various types of SFP+ transceivers to match your precise network requirements, with many Antaira models compatible with HP, Cisco, Dell, Brocade, Juniper and of course, Antaira's own award-winning line of industrial Ethernet switches.

www.antaira.com